 
Foosball Stella Toi&Moi Factory
It's time to take the bull by the horns, or rather foosball by the handles! Treat yourself to an exceptional finish on the sumptuous Toi&Moi by Stella in hammered aluminum. Easily train alone on your 2-bar foosball and summon your most formidable opponent. It's your match! Will he master the small area of a 2-player foosball? This model exists in only 50 numbered copies!
- Hammered Alu crate
- Hand-painted solid beech feet
- Vinyl play mats
- Stainless steel goal cages
- Players in raw aluminum and aged aluminum
The Stella Toi&Moi in hammered aluminium - our jewel
The Toi&Moi is dressed in hammered aluminium. It's a bit of a copy of the Factory champion, but the little guy has his own special features! The Toi&Moi all in aluminium will adapt to your changes of taste and decoration since aluminium has the power to blend very easily. It's our eternal, classy and futuristic foosball table that will go through the years with panache and may end up in your nephew's living room in 2090! Its white vinyl playing surface highlights the shiny chrome and nickel players, the chic touch we love, as well as its bakelite pro handles. High quality finishes and materials to give you a top of the line foosball table. A play of textures and a difference in the reading of materials with the corner profiles in anodised aluminium on hammered aluminium. The solid beech legs are hand-painted in black (you can choose another colour on request). The boxwood used for the scorekeeping contrasts with the metallic effect of our Toi&Moi alu, but will it soften your opponent's mood when he sees your points accumulating? Above a black central ball exit, a beautiful stainless steel landing with black Stella paint is proudly displayed. The aluminium that covers it in its entirety makes your Toi&Moi semi-precious, solid, aesthetic, but above all durable!
The Stella Toi&Moi in hammered aluminium - control its surface
With its workshop assembly by our carpenters and its metal reinforcement rods, you can count on Stella's strength! Concentrate on your game and optimize your level with its small surface, it is your secret to win the next tournament!
The soft rubber of the shock absorbers will bring you a new comfort of play and fluidity in your movements. On this model, the stainless steel diamonds around the handles release a specific lubricant to facilitate the game and the maintenance of the bars.
If you have never played on a Stella, you will see that it is possible to use the vertical hoofed feet of the players and their heads to block the ball. Repeat your shots several times, use the slanted side strips to bounce the ball and control the surface. You&me is smaller, the dynamism of the game is amplified and so is the speed. Surprise your friends and family or your usual opponents by introducing them to the feel of Stella on a small court. The unique game Stella has crossed the ages and generations, do not hesitate to ask your ancestors for advice and then summon your opponent!

See all our Toi&moi table football >
Height: 93 cm
Length : 100 cm
Width : 90 cm
Weight : 55 kg
Materials of Stella Toi&Moi :
Playing mat : Playing mat in gerflex
Material of the body : Medium wood - real hammered aluminium cover
Material feet: Hand-painted solid beech wood feet
Material players : Chrome and nickel players screwed on the bar
Material of bars : Telescopic steel bars
Type of bars : Telescopic steel bars
Bar diameter : 15 mm
Packing information :
Package size: 115 x 110 x 65 cm
Playing surface size : 54 x 73 cm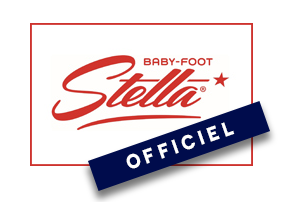 Stella's little extras :
Assembly : Only the feet to screw
Warranty : 2 Generations *
Color : Hammered aluminum
Handles in bakelite
Aluminium stitch counters
2 generations* : Case and legs = 2 generations ; Bars and mechanical parts : 2 years*



WITH YOUR TOI ET MOI ALU TABLE FOOTBALL

THE POSSIBLE OPTIONS
Traced game background (70 € TTC)
DELIVERY OF YOUR BABY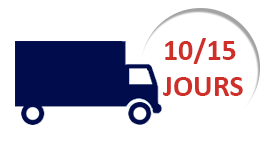 Delivery within 10 to 15 days
Adjustments and verification in our workshop by our experts
Easy to assemble: only the legs need to be fixed
15 days to change your mind - After sales service available!
Delivery only on the ground floor
Contact us for a delivery with handling
Reinforced side protection on the top and sides of your package