 
Foosball Stella Sporting Tradition coineur
If the Kicker remains a game of football on the table, it has its small peculiarities that disturb the best French foosball player. If you are looking for a company foosball to animate the break room a little empty and silent, opt for a Stella Sporting Tradition coineur!
Sandblasted glass drawn game background
Wooden players, screwed on bars
Spring shock absorbers
Melamine wooden box
Painted solid beech feet
A table football in company
A beautiful wooden case in black or beech, beautiful hand-painted feet, a ball outlet whose star made you guess the famous Stella brand. Oh yes! it is equipped with a coin-operated machine, perhaps that is the difference with the one that has been called "the crazy Stella kicker" for a few days now in your premises. You have noticed it from afar because it has come to define the whole style of the break room, but it is by playing that you will understand. Are the players made of wood? Yes baby player and it is even possible to ask for wooden handles and a complete customization of this table football with flocking of the logo, personalized players and custom painting. Let's play!
Your colleague inserts the coin into the coin slot, the balls fall and the game begins! The cork ball flies from left to right, your opponent bounces it and flies to the slanted sides of the field. What? The bars are through? Let's see, you've just seen the score move to the other side of the court, you've taken a goal.
Your whole pole is rooting for you to win, but it's like the field is fast. It's not vinyl or gerflex, this kicker's playing surface is sandblasted glass. It's this difference that is guilty of the crazy atmosphere and the desire to play again and again that rises in you! So, save some change for the coffee machine, but also for your next tournaments with colleagues.
The tracing of the field is offered on our Stella Sporting Tradition coin-op as well as the choice of the amount of the coin-op ( 0,50ct or 1euro ) delivered with 2 keys to open and close the table football.
Height : 93 cm
Length : 158 cm
Width : 120 cm
Weight : 85 kg
Materials of the Stella Sporting Tradition Monnayeur :
Playing mat : Playing surface made of sandblasted glass
Material of the body : Melamine wood
Material feet : Solid beech wood, hand painted
Material players : Wooden players
Material of bars : drawn steel
Type of bars : through bars
Bars diameter : 15 mm
Packing information :
Package size : 173 x 125 x 65 cm
Playing surface size : 115 x 70 cm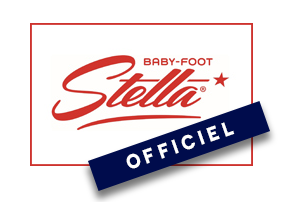 Stella's little extras :
Balls : delivered with 5 cork balls
Assembly : Only the feet to screw
Guarantee : 2 Generations *
Color : Beech or Black
Possibility of making jumping balls thanks to the oblique lateral bands
2 generations* : Case and legs = 50 years ; Bars and mechanical parts : 2 years*



WITH YOUR STELLA SPORTING TRADITION FOOTBALL TABLE

Assembled cabinet with metal reinforcement rods
Feet with spacers for more stability
Choice of handle shapes
Wooden or plastic handles
POSSIBLE OPTIONS
PVC protective cover (129€ TTC)
DELIVERY OF YOUR BABY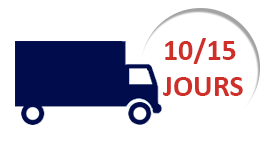 Delivery within 10 to 15 days
Adjustments and verification in our workshop by our experts
Easy to assemble: only the legs need to be fixed
15 days to change your mind - After sales service available!
Delivery only on the ground floor
Contact us for a delivery with handling
Reinforced side protection on the top and sides of your package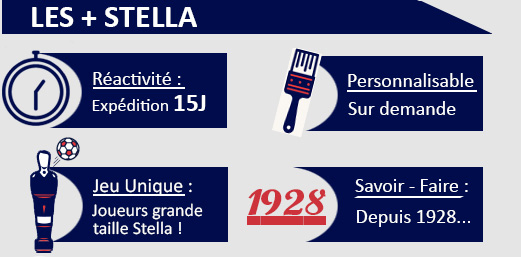 livraison sous 4 semaines