 
Foosball Stella Champion Collector Coin
How to cultivate or strengthen the coffee spirit of your establishment? This emblematic place where we meet: the newcomers, the old ones, the faithful and the bands of friends... Foosball is the symbol of a whole era, the Champion Collector coineur de Stella remains our most nostalgic coffee game table.
- Hand-painted solid wood feet
- Stainless steel perforated goal cages
- Aluminum bearings marked "Stella Champion"
- Melamine wooden box
- Equipped with 4 ashtrays and a drawn carpet
The Champion Collector coin-op - nostalgia
Do you remember that table football with the ashtrays fixed high up like a cherry on a cake? The Champion Collector coin-operated table is the table that makes the most nostalgic eyes shine with its small finishings for a big difference. The solid wood, stainless steel and rigid steel of its 15 mm diameter bars make it a top-of-the-range table football. Its decorative aluminium ball outlet, its "Stella Champion" bearings around the wrists and its realistic perforated goals make it a collector's item in the foosball world.
Offer your clients or friends a return to their roots during a game on the Champion Collector coin-op. Unique and recognizable by all, find the traditional values and the sensations of the unique game Stella. Tackle, take backs or even lobs with the help of the high goals, it's possible! By shooting directly towards the sloping edges of the field, it is even possible to make strips (a top shot to win the match!).
Unique and recognizable by all, the Stella Champion Collector coin-operated foosball table with its vintage look is available in many colours: white, yellow and red, black, taupe or even beech. You want a table football with LEDs? It is possible and we can customize your foosball table on request!
How does a coin slot work?
We manufacture all our table football in our workshop in the North of France. There is nothing very complex to get the 1€ or 0,50 ct coins (depending on the choice of coins). Like a wooden safe, use one of your 2 keys to open your table football. The coiner stays open with the help of a wooden wedge, the time to recover the loot of the day. You will be pleasantly surprised by the success of your investment, which will quickly pay for itself..

See all our coffee table >
Dimensions and weight :
Height: 93 cm
Length : 158 cm
Width : 100 cm
Weight : 81 kg
Stella Champion Collector Monnayeur Materials:
Playing mat : Vinyl playing mat on soft background
Body material : Melamine wood
Material feet: Hand-painted solid wood
Cage material : Perforated stainless steel cages
Material of players : Aluminium
Material of bars : drawn steel
Type of bars : telescopic
Bars diameter : 15 mm
Packing information :
Package size : 165 x 110 x 45 cm
Playing surface size : 126 x 73 cm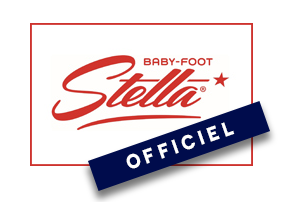 Stella's little extras :
Balls : delivered with 10 cork balls
Assembly : Only the feet to screw
Guarantee : 2 Generations *
Color : Beech - Mole - Black - Red and Yellow - White
Game with the head possible on this model
Possibility of making jumping balls thanks to the oblique lateral bands
2 generations* : Case and legs = 50 years ; Bars and mechanical parts : 2 years*



WITH YOUR TABLE FOOTBALL CHAMPION COLLECTOR

Delivered with 10 free cork balls
Equipped with 4 ashtrays and a tracked mat
Central aluminium ball outlet
Equipped with a 0,50€ or 1€ coin slot, as you wish
Personalization of the shape of the handles with the choice
THE POSSIBLE OPTIONS
Bakelite handles ( 119€ TTC )
LED lighting ( 199€ )
Chrome / Nickel players ( 229€ TTC )
DELIVERY OF YOUR BABY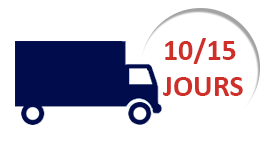 Delivery within 10 to 15 days
Adjustments and verification in our workshop by our experts
Easy to assemble: only the legs need to be fixed
15 days to change your mind - After sales service available!
Delivery only on the ground floor
Contact us for a delivery with handling
Reinforced side protection on the top and sides of your package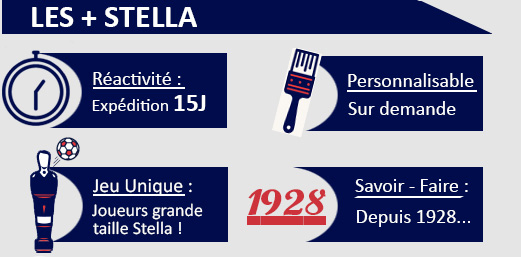 livraison sous 4 semaines