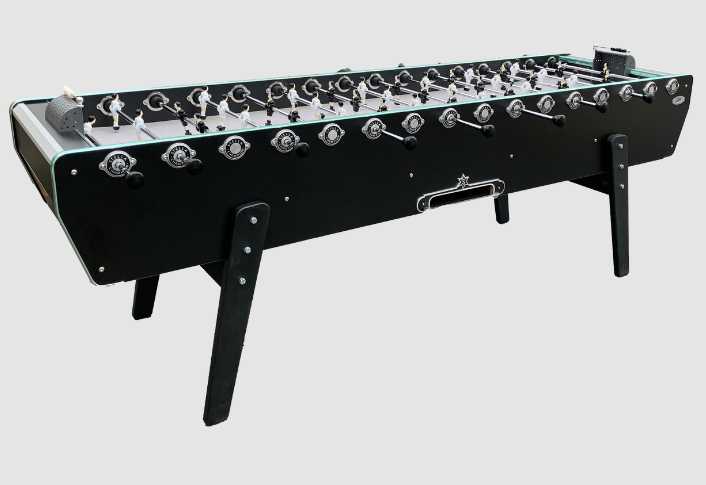  
Foosball Stella Champion XXL black
An XXL table football 8 players of 2.80m with 16 handles can not go unnoticed! And even less so when it comes to a quality Stella Champion model. The Stella Champion XXL foosball is the N°1 attraction in the world of foosball. For the launch of your brand, an event or an exceptional evening. A maxi size for a maxi atmosphere!
- Hand-painted solid beech feet
- Stainless steel goal cages
- Reinforced soft rubber shock absorbers
- Anodized aluminum angle profiles
- Aluminum bearings marked "Stella Champion"
Score points with the Stella Champion XXL table football:
In recent years, vintage and back-to-basics are coming back in a big way. Whether in companies or at an event, we like to find this little point of nostalgia that will bring together and animate. Where can you find a game of solidarity and the best common ground? A Stella foosball field perhaps?
Highlight the human side of your company by offering a cross-generational activity in XXL size on your events or at a trade fair: table football. Captivate the attention and reinforce the synergy of a team during an unforgettable game. The Stella Champion XXL will be visible from afar and recognized by all because of its history and its quality of manufacture in the North in Tourcoing. Show your boldness and originality by standing out at a trade show or at a marketing launch party. An investment that will captivate and bring together pleasantly surprised visitors who will talk about it! Manufacturer of emotions, but especially of table football, we can even on request, personalize your Stella Champion XXL from the box to the feet..
High level customization on my Stella table football
Our Stella Champion XXL is available for purchase in yellow and red, black or beech to suit your style. But for an event, a special launch, 100% customization is possible on this model! If we love to customize smaller foosball tables like the Toi&Moi at Stella, we also love to customize our Champion XXL. Customization goes a long way, with hand-painted players who can sport different jerseys, hairstyles, skin tones and even styles! You can customize the mat, add LEDs to light it up or even have your logo flocked to the center of the mat! Our manufacturing being handmade, the options are numerous and we know how to adapt our manufacturing process. Pink ? Unique blue? Intense green like your shop? Our color palette is unlimited, just like our passion for foosball.
The unique recipe for a giant foosball table by Stella:
In the 150 kg of the Stella Champion you will find: a melamine-coated wooden box of 2.80m long and 1m wide that will leave no player on the side! Make 2 beautiful stainless steel goals (stainless steel) with a raised shape to encourage the players to make beautiful lobs! Place the scorekeepers high up on the goal cage to leave the box free to view. Large table football means large reinforced soft rubber shock absorbers for inimitable comfort and long games. Provide yourself with large Stella players, so that a game with the head is possible. Screw them directly onto 8 straight telescopic bars made of 15 mm diameter steel (the thickest on the market). Depending on your choice, you can place round or long handles or even bakelite handles. To reinforce the attachment and put a Stella touch on the body, fix the emblematic bearings around the handles. Cut the legs of your table football out of large planks of solid beech wood. The solid beech wood will be able to support the 150 kg of an XXL Champion without moving 1 mm over the years (it has proven itself, we trust it). For this recipe, expect 10 hours of work, passionate carpenters and a know-how of over 90 years.
Rest assured, this recipe is prepared in our workshops. The assembly is already done, all that will be left to do is to fix the legs on delivery! Did you know : We also manufacture 2-person table football.
Height: 93 cm
Length: 280 cm
Width : 100 cm
Weight: 150 kg
Materials of the Stella Champion XXL:
Playing surface: green gerflex carpet on chipboard
Material of the body : Melamine wood
Material feet : Solid beech wood, hand painted
Material cages: Stainless steel
Material players : Aluminium
Material of bars : drawn steel
Type of bars : telescopic
Bars diameter : 15 mm
Packing information :
Package size : 300 x 115 x 65 cm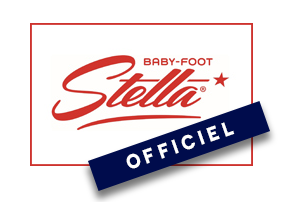 Stella's little extras :
Balls : delivered with 10 cork balls
Assembly : Only the feet to screw
Guarantee : 2 Generations *
Color : Red and Yellow - Beech - Black
Game with the head possible on this model
Possibility of making jumping balls thanks to the oblique lateral bands
2 generations* : Case and feet = 50 years ; Bars and mechanical parts : 2 years*



WITH YOUR CHAMPION XXL TABLE FOOTBALL

Delivered with 10 free cork balls
Choice of handle shapes
POSSIBLE OPTIONS
Bakelite handles (239€ TTC)
Chrome/Nickel players (479€ TTC)
DELIVERY OF YOUR BABY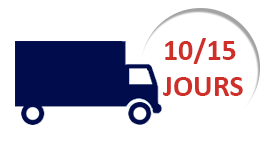 Delivery within 10 to 15 days
Adjustments and verification in our workshop by our experts
Easy to assemble: only the legs need to be fixed
15 days to change your mind - After sales service available!
Delivery only on the ground floor
Contact us for a delivery with handling
Reinforced side protection on the top and sides of your package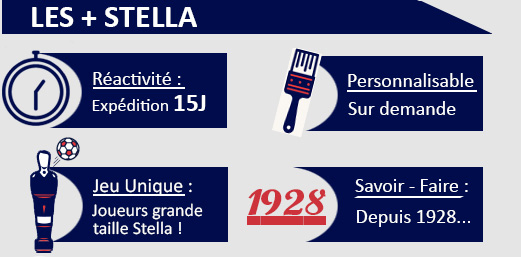 livraison sous 4 semaines