 
Foosball Stella Handi-baby
Non-contractual photo, contact us for more information.
Over the years and competitions, Stella has met many players with disabilities. In our Tourcoing workshops we have imagined and manufactured from scratch our Stella Handi table football in order to offer more comfort to players with reduced mobility. With or without an armchair, the game will be rich in Stella emotions, as equals.
- Vinyl play mats on chipboard wood
- Adapted assembly for 4 wheelchairs
- Soft rubber shock absorbers
- Hand-painted solid beech feet
Our Stella Handi foosball table goes beyond disability.
If your passion goes beyond your disability, then so does our table football. Our Stella handi football table is 180 cm long and has straight legs to accommodate 4 wheelchairs. We have adapted the height to 93 cm to facilitate smooth movement and movement to play without extra effort. The ball retrievers are low and easily accessible on the sides. A few formalities, let's say, that we had the pleasure to put in place in our handcrafted process. But for the rest, baby player, you will have the same materials, parts, the 2 generations guarantee and especially the joy of the table football.
Durable materials and the pleasure of playing Stella
From the body to the feet, your handicapped table football is made entirely by hand in our workshop. We make the sturdy legs from a solid beech wood board. The legs are important for a straight table and a stable game. They are handcrafted one by one by our carpenters, you can even customize the color as an option. The telescopic bars, made of steel drawn so as not to bend, are checked before being mounted on your melamine wood case. But if a bar should bend during an intensive game against a formidable opponent, you benefit from a 2 generation guarantee to change it. The assembly is done by hand and it takes us 10 hours to make a Handi football table in our workshop. Whether you choose yellow, black or beech color, the specific Stella players will allow you to make jumping balls with the head. The sloping edges are not for decoration and you can use them to surprise your opponent with jumping balls. And don't worry about your heavy duty vinyl mat, a material that ages well! For the handles, you can choose between red and black, but above all, choose the shape that suits you best. Snake shot lovers should go for long handles, but be aware that all our handles are non-slip.
Fast delivery and easy assembly
Your football table is shipped within 10 working days. For a more specific delivery with handling, you can contact us. We will then send you a package with reinforced sides to protect your 173 x 115 cm handicapped football table. The assembly of all our foosball tables is easy and all you have to do is to screw the legs on before starting your first game!
Dimensions and weight :
Height: 93 cm
Length: 180 cm
Width : 110 cm
Weight: 65 kg
Materials of the Stella Handi-baby :
Play mat : Gerflex on chipboard
Body material : Melamine wood
Material feet : Hand painted solid beech
Material cages : Stainless steel
Material of players : Aluminium
Material of bars : Drawn steel
Type of bars : telescopic
Bars diameter : 15 mm
Packing information :
Package size : 173 x 115 x 52cm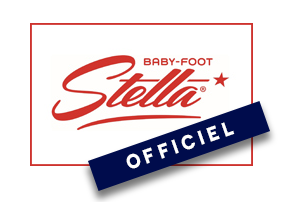 Stella's little extras :
Balls : Delivered with 5 cork balls
Assembly : Only the feet to screw
Warranty : 2 Generations = 50 years
Color : Black - Yellow and red - Beech
2 generations*: Case and legs = 50 years; Bars and mechanical parts: 2 years*



WITH YOUR TOI&MOI TABLE FOOTBALL

Delivered with 5 cork balls
Only the legs to be screwed
2 generations *
Color : Black - Yellow and red - Beech
POSSIBLE OPTIONS
DELIVERY OF YOUR BABY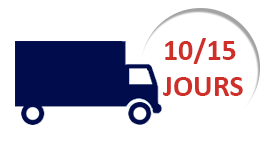 Delivery within 10 to 15 days
Adjustments and verifications in our workshop by our experts
Easy assembly: only the legs need to be fixed
15 days to change your mind - After sales service available!
Delivery only on the ground floor
Contact us for a delivery with handling
Reinforced side protection on the top and sides of your package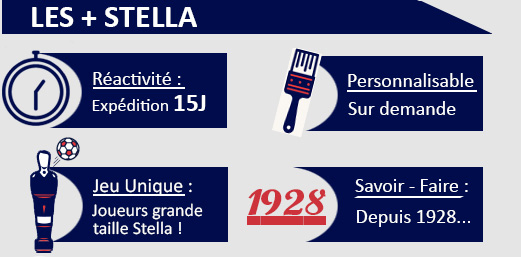 livraison sous 4 semaines