 
Foosball Stella Champion Vintage Alu Brossé
Stella's Champion Vintage foosball is a limited edition entirely designed in real brushed aluminum. Its unique and refined design has been worked in every detail to merge the fun of the game of yesteryear and the industrial style.
- Melamine wood box real brushed aluminum finish
- Painted solid beech feet, retro style
- Painted steel perforated goal cages
- Chrome and Nickel players, screwed on the bar
A real collector's item before time, it will mark its generation!
Aluminum foosball for an industrial decoration.
What attracts you to the Millésime is its wooden body entirely covered with a layer of brushed aluminium. From a distance as well as up close, the Stella Champion Millésime foosball table will delight you with its finish. The combination of black and aluminium is a perfect match for an industrial loft or a contemporary bar. You can also use it as a main decoration piece that will break up a cosy wooden living room. The retro legs have that special shape that reminds us of the tripod tables of yesteryear. They give your football table its crazy charm! Its handcrafted design, its history and the memories it will create in your home will make it a coveted and admired object by all.
What makes my Millésime football table so beautiful and durable?
We are passionate about the manufacture of our foosball tables and the Stella Millésime reflects this in its quality. There is a huge amount of craftsmanship in the quality and design of this model. Let's start with the legs of your foosball table which are handcrafted to achieve that retro 70's bevelled shape from a solid beech raw board. The quality of this wood has allowed us to offer you durable supports that we have painted black one by one in the workshop. We wanted very realistic goalposts that were different from other football tables. Our carpenters focused on modular, recyclable and resistant steel to make high, slightly curved perforated goals. The Gerflex play mat is grey for a perfect colour match and directly traced on this model, for more realism. The bakelite handles are round for a good grip. The bakelite will not tarnish and will be easily maintained as it has a good chemical resistance and stability. One team of players is made of silver chrome which is resistant to corrosion and tarnishing, because the vintage must shine! The other team is made of Nickel with a subtle golden sheen. In the four corners of your collectible foosball table, 4 engraved ashtrays like in the coffee shops and a magnificent silver decorative ball outlet.
All our standards of manufacture and play are present on the Millésime table football: the possibility of making jump balls with the oblique side bands, the play with the head of your great players and our single artisanal and French manufacture.
How about lighting up the table football?
At Stella, we offer a wide range of options to personalize your table football. What could be nicer than a table football with LEDs in an establishment in the evening or simply during parties at home? It's an option that goes particularly well with the design of the Millésime. So let's light it up?

Want to see more?
Height: 93 cm
Length : 158 cm
Width : 100 cm
Weight : 75 kg
Materials of the vintage Champion :
Playing surface: in gerflex on a flexible base
Case material: Medium wood case, brushed real aluminium cover
Legs: Hand-painted solid oak legs
Material of players : Aluminium players screwed on the bar
Material bars: Telescopic bars in drawn steel
Type of bars : Telescopic bars in drawn steel
Bar diameter : 15 mm
Packing information :
Package size: 173 x 113 x 65 cm
Playing surface size : 132 x 73 cm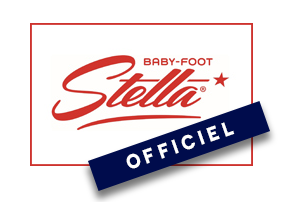 Stella's little extras :
Balls : delivered with 10 cork balls
Assembly : Only the feet to screw
Guarantee : 2 Generations *
Color : brushed aluminium
Handle of the Vintage in bakelite
Point counters in solid boxwood
2 generations* : Case and legs = 2 generations ; Bars and mechanical parts : 2 years*



WITH YOUR BABY-FOOT Champion Millésime

Delivered with 10 free cork balls
Choice of handle customization
POSSIBLE OPTIONS
Bakelite handles
PCVC protective cover
Traced game background
DELIVERY OF YOUR BABY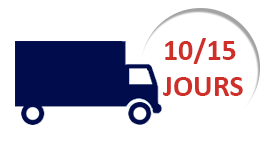 Delivery within 10 to 15 days
Adjustments and verification in our workshop by our experts
Easy to assemble: only the legs need to be fixed
15 days to change your mind - After sales service available!
Delivery only on the ground floor
Contact us for a delivery with handling
Reinforced side protection on the top and sides of your package