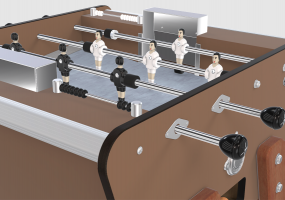  
Foosball Stella Toi&Moi Outdoor Taupe
To meet the desires of conviviality in any season we imagined the outdoor, foosball table full thought in exterior use. With selected materials to withstand the elements such as stainless steel, aluminum and solid wood rot-proof, your outdoor foosball table does not deform under the sun, rain, and heavy snowfall ... You can even wash it with water jet!
Concerning performance, you enjoy the same features that make the reputation of Stella: the inclined side strips, head repeatedly, rubber shock absorbers ... With the outdoor Stella, play outside and also ... inside, if you wish! 
The authenticity of an exceptional table football with the Toi & Moi Outdoor
Manufacturer of table football since 1928, Stella Baby-Foot offers you to relive the passion of this unique game through the
Toi & Moi outdoor in white or taupe
. Impossible not to succumb to your emotions of yesteryear by finding a vintage model. Unlike the old models that used to sit in cafés, the Toi & Moi is available in an outdoor version to extend the pleasure and sharing in your garden or terrace. If you still doubt the quality of our products, you should know that Stella Baby-Foot has built its reputation in the many cafés and bars of Northern France by systematically providing a quality table football to fill up with emotion.
Extend the pleasure in your garden
The particularity of the Toi & Moi White or Taupe resides especially in the quality of the materials which will allow you an outside use. With its Gerflex play mat on an HPL laminate base, its feet made of solid rot-proof wood, its aluminium players and a body made of compact HPL laminate, it is absolutely weatherproof. On the contrary, all the ingredients are there to enjoy a remarkable quality and to have fun with the games of the head because the Toi & Moi is equipped with large players to multiply the controls and the passes. The icing on the cake is the oblique side strips on the back of the game, which will allow you to abuse as much as you want the jumping balls to lob your opponents and score unforgettable goals.
The quality of the Toi &
Moi The model has been developed above all for uncompromising
outdoor
use. The quality of the materials will be well and truly present thanks to the intelligent combination of solid rot-proof wood, aluminium and stainless steel. As a result, your table football is not affected by heavy rain, snow or sunlight, and you can even throw water on it without any fear. You will discover or rediscover with a particularly intense pleasure, a fast ball game with a table football which requires only 1 square meter on the ground. Moreover, you will be able to customize the handles, choose the color of the carpet as well as the color of the players for a greater pleasure of play.
Height: 93 cm
Length : 90 cm
Width : 100 cm
Weight: 62 kg
Materials of the Stella Outdoor :
Playing mat: Gerflex on HPL laminate base
Body material : Compact HPL laminate with stainless steel reinforcing rods
Material feet : Solid rot-proof wood ( FREIJO )
Cage material : Stainless steel
Material of players : Aluminium
Material of the bars : Ground stainless steel
Type of bars : telescopic
Bars diameter : 15 mm
Packing information :
Package size : 115 x 115 x 65 cm
Playing surface size : 54 x 73 cm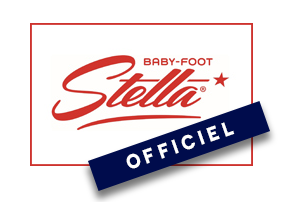 Stella's little extras :
Balls : delivered with 5 cork balls and 5 white plastic balls
Assembly : Only the feet to screw
Guarantee : 2 Generations *
Color : Taupe
2 generations* : Case and legs = 50 years; Bars and mechanical parts: 2 years*



WITH YOUR OUTDOOR TABLE FOOTBALL

Delivered with 5 cork balls and 5 plastic balls offered
Customization Choice of handle shape
POSSIBLE OPTIONS
DELIVERY OF YOUR BABY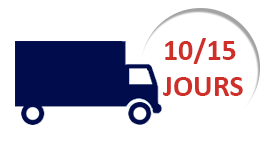 Delivery within 10 to 15 days
Adjustments and verifications in our workshop by our experts
Easy assembly: only the legs need to be fixed
15 days to change your mind - After sales service available!
Delivery only on the ground floor
Contact us for a delivery with handling
Reinforced side protection on the top and sides of your package