 
Foosball Stella Home Black
Our Stella Home table football is the possibility of having a qualitative family foosball and having a wide choice of models and colors. For the Home table football, we have worked on the aesthetics to offer you many variations and a wide choice of design. Find colors more specific to current interiors such as the mole or the very trendy foosball concrete effect!
- Hand-painted melamine wooden feet
- Anodized aluminum angle profiles
- Stainless steel bearings
- Gerflex game mats on a rigid background
- Aluminum players screwed on the bar
Customize this foosball in 3D

here.
Stella's Home and Club - 2 surprising entry-level foosball tables!
Stella's know-how is to manufacture a table football by hand with beautiful materials to offer you the quality of vintage table football of the time. Our club model is known as THE cheap foosball table from Stella, it is indeed a complete project of qualitative game table is affordable by Stella. So what is the difference with the Stella Home? The Home has more finishes and a wider choice of colours and effects than the Club (like the beautiful concrete football table version). White, black and red wood, black, taupe, beech or completely red, it adapts more easily to your decor and will become a piece of furniture in its own right. The Gerflex mat is different depending on the colour of the table: a grey mat for the white table, a blue background for the beech-coloured table. On the Home, you have all the Stella playing tricks at your disposal, such as head passes and sloping sides. Have you noticed the stainless steel diamond-shaped landings? Besides being more aesthetic, they release lubricant tablets for the maintenance of the steel bars. Behind the goals, the joint cover is replaced by an all-aluminum finish. The legs are hand-painted in our workshop and you can even customize the colors of this table football as an option. Now you know all about our 2 Stella entry-level football tables!
Casual players - pro quality!
Are you nostalgic for your old foosball games? Do you want to bring the atmosphere and the decorative beauty that a Stella table football will bring to your living room? You're not the only one (no, you're not!) The Home is the table for occasional players who still want professional quality! As we like to offer ourselves a beautiful piece of furniture, a Stella handmade table football is a guarantee of quality and know-how. This Stella Home model contains the same parts that we use in the manufacture of a table football: the wide bars in Stella steel, the XL players screwed directly onto the bars, the goal cages in stainless steel material. This means that intensive use is possible and the durability is ensured by metal reinforcements and 100% hand-made assembly!

See more football tables!
Height: 93 cm
Length : 158 cm
Width : 100 cm
Weight : 62 kg
Materials of the Stella Home :
Play mat : Gerflex
Material of the box : Melamine wood box
Material feet: Hand-painted melamine wood feet
Material players : Aluminium players screwed on the bar
Material of bars : Telescopic bars in drawn steel
Type of bars: Telescopic bars in drawn steel
Bar diameter : 15 mm
Packing information :
Package size: 173 x 115 x 52 cm
Playing surface size : 125 x 73 cm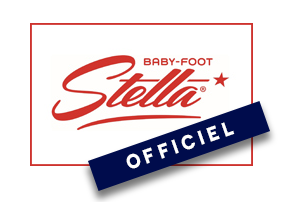 Stella's little extras :
Balls : delivered with 5 cork balls
Assembly : Only the feet to screw
Guarantee : 2 Generations *
Color : white - red and yellow - black - concrete - taupe - beech - red
2 generations* : Case and legs = 2 generations; Bars and mechanical parts: 2 years*



WITH YOUR TABLE FOOTBALL CLUB

Delivered with 5 free cork balls
Customization Choice of handle shape
THE POSSIBLE OPTIONS
Bakelite handles (119€ TTC)
PCVC protective cover (139€ TTC)
Traced game background (67€ TTC)
DELIVERY OF YOUR BABY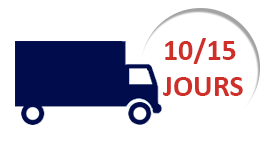 Delivery within 10 to 15 days
Adjustments and verification in our workshop by our experts
Easy to assemble: only the legs need to be fixed
15 days to change your mind - After sales service available!
Delivery only on the ground floor
Contact us for a delivery with handling
Reinforced side protection on the top and sides of your package