 
Foosball Stella Star coiner
Our baby – foot Stella Star coineur is a baby with introduction of coins of 0.50ct or 1 € (to choose). A vintage professional foosball that we like to install in the center of the café or in a break room in a company. Table football fans and experts will love to gather around the Stella Star coiner, as at the time!
- Painted solid beech feet
- Aluminum players screwed on the bar
- Soft rubber shock absorbers
- Gerflex game mats on a rigid background
- Melamine wooden box
A coiner, how does it work?
You have probably already crossed the path of a coin-operated machine. Table football with a coin-operated machine can be found in cafés, games rooms and bars. To start a game, you have to introduce a coin whose weight will allow the delivery of the famous cork balls. When you buy the Stella Star coin slot, you can choose the coin slot you want our carpenters to install during the manufacturing process in our workshop. The part will be at 0,50ct or 1€ ? the solid beech case is equipped with a drawer to recover the change.
A small wooden wedge cut to size keeps the field upright while the coins are retrieved from the table football. The rules of the table football say that the winner of the game can continue to play in the next round and the losers pay for it! And beware, Stella doesn't like cheaters, because foosball is a self-respecting sport!
That's why 2 locks and 2 keys allow you to close and secure the coin tray. To the best to win not to pay ;) !
If private individuals are more inclined towards a foosball table without a coin box, it is not uncommon to see a beautiful coin box in the game room or the office of a family home. But why? Because of the history and passion of old-time foosball! A bit like poker, you get back to the exact atmosphere of the time by inserting your coin to earn your ball. For some, the table football of their dreams is simply equipped with a coin slot.
Then, it is very amusing to be the King of the game and to be offered the games. The Stella Star coin-operated table football is clearly a pub table: 71kg of beech wood ensures high stability. The steel bars and the legs made of painted solid beechwood are an unbeatable proof of the robustness of this Stella piece.
If its coin mechanism already gives it a retro charm, Stella likes to pamper its creations with important finishing touches: Unique centered aluminum ball exit, Stella engraved bearings, corner profile and the possibility to customize it from the handles to the feet (including the players).
Dimensions and Weight :
Height: 93 cm
Length : 158 cm
Width : 100 cm
Weight : 71 kg
Materials of the Stella Star:
Playing mat: Gerflex mat on rigid base
Body material : Melamine wood
Material feet : Solid wood, hand painted
Material of the goal: Stainless steel goal
Material players: Aluminium
Material of bars: drawn steel
Type of bars: telescopic
Rods diameter : 15 mm
Packing information :
Package size : 165 x 110 x 45 cm
Playing surface size : 126 x 73 cm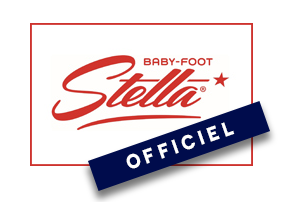 Stella's little extras :
Balls : delivered with 10 cork balls
Assembly : Only the feet to screw
Guarantee : 2 Generations *
Color : Beech
Game with the head possible on this model
Possibility of making jumping balls thanks to the oblique lateral bands
2 generations* : Case and feet = 50 years ; Bars and mechanical parts : 2 years*



WITH YOUR STELLA STAR TABLE FOOTBALL

Delivered with 10 free cork balls
Central ball outlet in aluminium
Choice of handle shapes
POSSIBLE OPTIONS
Bakelite handles ( 119€ TTC )
Traced game background ( 65 € TTC )
Chrome / Nickel players ( 229€ TTC )
DELIVERY OF YOUR BABY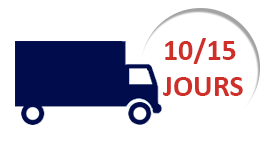 Delivery within 10 to 15 days
Adjustments and verification in our workshop by our experts
Easy to assemble: only the legs need to be fixed
15 days to change your mind - After sales service available!
Delivery only on the ground floor
Contact us for a delivery with handling
Reinforced side protection on the top and sides of your package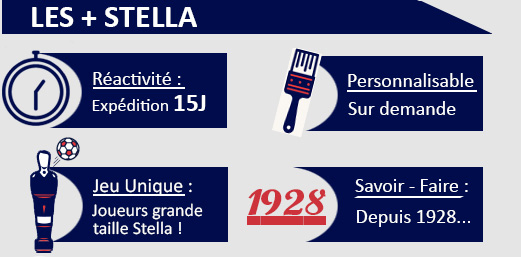 livraison sous 4 semaines
Data sheet
Monnayeur

Avec

Indoor

Indoor