 
Foosball Stella Toi&Moi Sixties Outdoor Blue
- Hand-painted rot-proof solid wood feet (FREIJO)
- Stainless steel butt cages, bearings, screws and bolting
- Telescopic bars in rectified stainless steel
- HPL compact laminate body with stainless steel reinforcing rod
- Soft rubber shock absorbers
Based in France since 1928, we have opted for the artisanal manufacture of table football. The foosball tables are made of quality materials. To this end, we have a strong presence in the south and north of France through our foosball tables which are in many bars and cafes. We take our professional image to heart, which justifies our passion for innovation. Based on this, we have designed the
Toi & Moi Sixties Blue outdoor
model, also available in 3 other 60's colours.
A breathtaking weapon of seduction
, Stella's Sixties is a range of
Toi & Moi foosball tables designed specifically for outdoor
use. This range has pastel colours, supported by tables and stools in the same colours. It is also a novelty that adds brightness to pool decks, beaches, terraces in the North, South or elsewhere with the kit (table football + table + chairs) that it includes.
A variety of colours and games
The Toi & Moi Sixties Blue table football also includes 3 other colours: blue, green, yellow and orange. It has compact dimensions of 90 x 100 x 93 cm and its playing surface is 54 x 73 cm. It is also equipped with a HPL body, Freijo legs (exotic wood) and stainless steel goal posts. With a weight of 68 kg, this model offers several games such as : Chess, Checkers, Backgammon or Card game. HPL is a very durable material, which is why the table football can be left outside all year round and cleaned with water.
The head game and jump balls are available on this model
Head game:
The Stella foosball tables have the particularity to be equipped with large players allowing to play with the head and thus to multiply the possibilities of passes and controls.
Jump balls:
Oblique side strips on the bottom of the game allow you to make jump balls and thus to lob your opponents to score memorable goals!
Height: 93 cm
Length: 90 cm
Width : 100 cm
Weight: 62 kg
Materials of the Stella Outdoor :
Playing mat: Gerflex on HPL laminate base
Body material : Compact HPL laminate with stainless steel reinforcing rods
Material feet : Solid rot-proof wood ( FREIJO )
Cage material : Stainless steel
Material of players : Aluminium
Material of the bars : Ground stainless steel
Type of bars : telescopic
Bars diameter : 15 mm
Packing information :
Package size : 115 x 115 x 65 cm
Playing surface size : 54 x 73 cm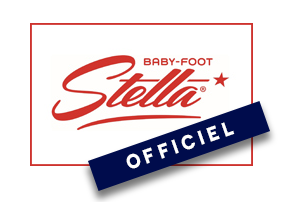 Stella's little extras :
Balls : delivered with 5 cork balls and 5 white plastic balls
Assembly : Only the feet to screw
Guarantee : 2 Generations *
Color : Taupe
2 generations* : Case and legs = 50 years; Bars and mechanical parts: 2 years*



WITH YOUR OUTDOOR TABLE FOOTBALL

Delivered with 5 cork balls and 5 plastic balls offered
Customization Choice of handle shape
POSSIBLE OPTIONS
DELIVERY OF YOUR BABY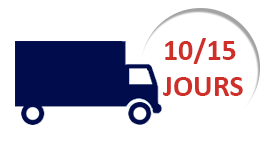 Delivery within 10 to 15 days
Adjustments and verifications in our workshop by our experts
Easy assembly: only the legs need to be fixed
15 days to change your mind - After sales service available!
Delivery only on the ground floor
Contact us for a delivery with handling
Reinforced side protection on the top and sides of your package