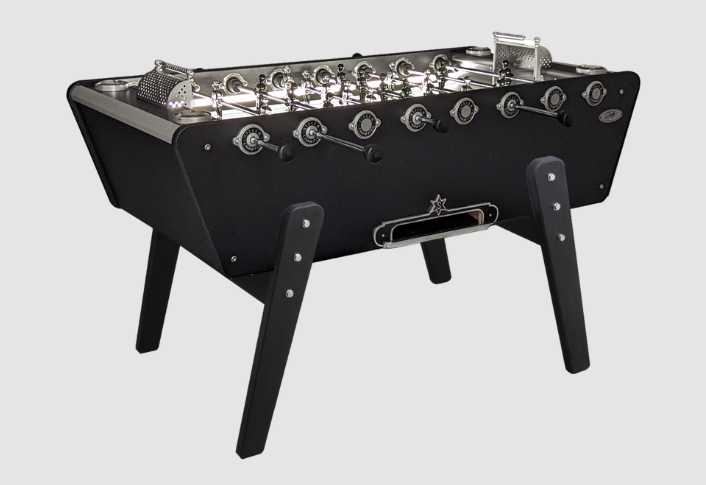  
Foosball Stella Champion Collector Black Led
The collection Champion by Stella is THE ultimate foosball table's pub! This mixture of design contemporary and of retro look will become integrated into the perfection in your home, and will make an object of archetypal admiration.
Its beech table legs provide great stability in foosball table to guarantee you great games.
And for the nostalgic, the product consists of four rounds ashtrays engraved without any difference with foosball table of the time! Besides, perforated goals which only this model has, offer a unique and grateful look among all.
Ability to customize the foosball table as you wish, add interior lighting by bulb leds, or players chromium /nickel.
- Case in laminated wood - Feet in beech solid wood, painted
- Game mat in vinyl on flexible wood
- Players in aluminum and screwed on the rods
- Steel telescopic rods
- Goals in stainless inox
- Reinforced rubber shock absorbers
- Bearing and ball return in aluminum with Stella's historical design
- L x W x H: 158x 100 x 93 cm
- Diameter of the rods : 15 mm
- Packaging dimension : 165 x 110 x 45 cm
- Weight : 81 kg
- Very robust foosball table with metal reinforcement rods designed for communities, associations, and bars. 
- Possible lobs with oblique sidebands
- Ability to play with the players heads
- Screwed handles, round or long according to preference
- Bakelite handles
- Protective cover in PVC 
- Interior lighting with LED 
- Chromed/nickel players 
- Customization (on estimate)
- Shipping within 10 working days, in France 
- By a carrier by appointment
Livraison sous 4 semaines