Stella Outdoor - The outdoor table football!
If you run a sports bar with a huge terrace or are a foosball enthusiast with an empty garden, we've made it for you: The Stella Outdoor. The taupe-coloured outdoor table football that loves the sun as well as the rain and around which you will spend a lot of fun. It's the Holy Grail of BBQ parties and the ally during pub breaks on game nights. You'll be allowed to get mad without paying attention, to spill your soda on the tray and even pieces of chips, because everything will go down the drain! The Stella Outdoor promises hours of table football even in the rain. When it rains, invent new games... A baby water perhaps?
Materials that make your table football waterproof
After the mobile phone, the watch and the mascara, Stella makes the table football waterproof. How can you leave your table football in the garden all year round in the cold, wind and rain? Don't panic foosball player, we appreciate how you worry about your Stella Outdoor, but it's much tougher than you think. We've taken care to select the best materials to make it durable and give it all the functions of an outdoor foosball table.
The Stella Outdoor is 100% stainless steel: stainless steel goals and screws for permanent outdoor use. The telescopic bars made of ground stainless steel cannot rust! For this model, our craftsmen have used special legs made of solid rot-proof wood in Freijo. Solid wood was chosen for its authentic appearance, but above all for its ability to resist moisture and UV rays. You can be sure that your wood will not swell or bend! To enable you to hose down your table football, you will find an HPL laminate under the Gerflex field as well as the body. HPL is a material used in swimming pools and bathrooms. You now know your baby by heart, so don't feel bad about letting it sleep outside! If you want to pamper it, give it a PVC protection.
A 2 in 1 table football: Indoor and outdoor:
If it doesn't fit inside, it will fit outside! That's what makes it the best friend of owners of small houses with gardens. Baristas, restaurant owners and other brave souls, we have thought of you, no more going back and forth and drawing lots to know: "who will bring the table football in tonight?" So let's have a game in the sun?
Moreover, when the temperature drops, the Stella Outdoor will also fit in your home thanks to its particularly careful design and its modern and timeless colours. You can play with your head on this model and make jumping balls with the help of the oblique side strips. Discover all our Stella football tables (watch out, there are some wonders!)
Height : 93 cm
Length : 158 cm
Width : 100 cm
Weight : 80 kg
Materials of the Stella Outdoor :
Playing surface: Gerflex on HPL laminate base
Body material : Compact HPL laminate with stainless steel reinforcing rods
Material feet : Solid rot-proof wood ( FREIJO )
Cage material : Stainless steel
Material of players : Aluminium
Material of the bars : Ground stainless steel
Type of bars : telescopic
Bars diameter : 15 mm
Packing information :
Package size : 173 x 115 x 52 cm
Playing surface size : 126 x 73 cm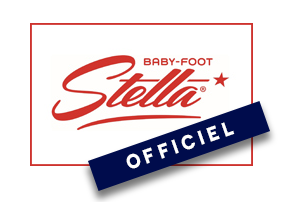 Stella's little extras :
Balls : delivered with 5 cork balls and 5 white plastic balls
Assembly: only the feet to be screwed
Guarantee : 2 Generations *
Color : Taupe
2 generations* : Case and legs = 50 years; Bars and mechanical parts: 2 years*