 
Foosball Stella Toi & Me
Living in an apartment or having a very small bar in the heart of the city is no longer a hindrance to afford a Stella foosball. Small size, but great quality! The Stella Toi&Moi 2 players,your favorite half-foosball!
- Painted solid beech feet
- Vinyl play mats
- Telescopic steel bars
- Aluminum players screwed on the bar
- Stainless steel bearings
Customize this foosball in 3D

here.
Baby-foot 2 bars - Stella Toi&Moi
Perhaps we were in a nice but too quiet Parisian café when we had the idea of making a mini table football. We have a coffee, a drink (in moderation) and a game of table football! Give your visitors the opportunity to have fun and raise the atmosphere in your bar with the Stella Toi&Moi. Melamine wood case, painted solid beech legs, handcrafted by Stella, which makes it a beautiful authentic object of quality and the attraction of your establishment. You want the same at home, but in black? It is possible!
Small table football - maxi progression, maxi quality!
Your miniature football table is cute! Beware of its cuteness, as many professional foosball players train on 2-bar foosball tables. The smaller field size of our junior foosball table will make the game tougher and improve your skills. Work on your attack and defence in a one-on-one game or even alone! It's easier and possible to play alone on the Stella Toi&Moi. Improve your passing, master the ball, master the "passing" and become a foosball pro!
The quality does not decrease with the size of the table football at Stella, on the contrary! The Toi&Moi is made in the same workshop and with the same care as a mastro like the Rétro. We know that most of its users use it a lot to improve their skills. That's why we've installed metal reinforcement rods and round or long non-slip handles for intensive use.
The legs of the Toi&Moi are made of solid beech wood, a hard, aesthetic and resistant wood that our carpenters work and paint by hand in our workshops. A very appreciable quality concentrate, which can be found in our wide table football bars. You will benefit from the finishing touches in the details: Fixing the bearings with decorative Stella stainless steel diamonds, long score counters placed next to the goals, but also corner profiles behind the goals in anodized aluminum make it a small qualitative and decorative baby.
A small football table to optimize space
A table football table in our 50m2 apartment? No way! Your significant other is probably imagining the imposing bar game table that she will have to squeeze around. All you have to do is find an ideal 90 x 100 cm spot to convince her! Your baby table weighs only 40 kg and all that's left to do is to fix the legs when delivered. Don't forget to add that this is a historic and decorative Stella table. Let her choose the colour: black, beech, yellow or white, to match the decoration! And don't forget that the Toi&Moi table is romantic. Stella makes love rhyme with football (who would have thought it?)

Take the time to discover all our Toi&Moi football tables (can be played by 2)
Height : 93 cm
Length : 100 cm
Width : 90 cm
Weight : 55 kg
Materials of Stella Toi&Moi :
Play mat : Gerflex on rigid bottom
Body material : Melamine wood
Material feet : Hand painted solid beech
Material cages : Stainless steel
Material players : Aluminium
Material of bars : Drawn steel
Type of bars : telescopic
Bars diameter : 15 mm
Packing information :
Package size : 115 x 110 x 65cm
Playing surface size : 54x73cm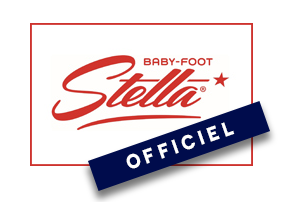 Stella's little extras :
Balls : Delivered with 3 cork balls
Assembly : Only the feet to screw
Guarantee : 2 Generations = 50 years
Color : Black - Yellow - Beech - White
2 generations*: Case and legs = 50 years; Bars and mechanical parts: 2 years*



WITH YOUR TOI&MOI TABLE FOOTBALL

Delivered with 3 cork balls
Only the legs to be screwed
2 generations *
Color : Black - Yellow - Beech - White
POSSIBLE OPTIONS
DELIVERY OF YOUR BABY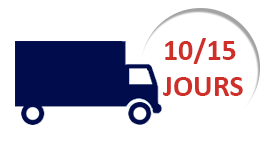 Delivery within 10 to 15 days
Adjustments and verifications in our workshop by our experts
Easy assembly: only the legs need to be fixed
15 days to change your mind - After sales service available!
Delivery only on the ground floor
Contact us for a delivery with handling
Reinforced side protection on the top and sides of your package