 
Foosball Stella Toi&Moi Sixties Outdoor Green
- Hand-painted rot-proof solid wood feet (FREIJO)
- Stainless steel butt cages, bearings, screws and bolting
- Telescopic bars in rectified stainless steel
- HPL compact laminate body with stainless steel reinforcing rod
- Soft rubber shock absorbers
Since 1928, Stella has been a well-known manufacturer in the world of table football. Relying on a traditional manufacturing process, the company has built up a real reputation in the bars and cafés of Northern France. Today, you have the opportunity to rediscover Stella's know-how through the
Toi & Moi Sixties Green
table football.
A range of foosball tables designed for outdoor
use If you love a good game of foosball, you'll love the Toi & Moi Sixties Vert. Specially designed to be placed outside, you will enjoy its robustness on a terrace, the beach or near a pool. Indeed, the
Toi & Moi Sixties
is entirely resistant to water, solar radiation and bad weather in general. It is 100% waterproof so that it is not affected by temperature variations thanks to the use of HPL, a rot-proof material.
A reference in technical matters
The Toi & Moi Sixties Vert has large players to multiply the actions with a very fast head game. The pleasure will obviously be shared with the possibility of making many controls and many passes. In addition, the oblique side strips available on the back of the game ensure you a system of jumping balls to score incredible goals by lobbing your opponents. With different game boards, you can customize it according to the location where you want to install the table.
Technical characteristics of the Toi & Moi Sixties Green table football
Designed to play one-on-one, it has a surface area of one square metre. The goals are made entirely of stainless steel and the legs of Feijo. With a total weight of 68 kg, you will be able to play memorable games reminiscent of your childhood or to discover a new way to have fun. The Toi & Moi Sixties Green foosball table is a real reference for outdoor play with the possibility of transforming the board into a game of cards, checkers or backgammon. The pleasure will be obviously with the appointment, while taking advantage of the outside.
Height: 93 cm
Length: 90 cm
Width : 100 cm
Weight: 62 kg
Materials of the Stella Outdoor :
Playing mat: Gerflex on HPL laminate base
Body material : Compact HPL laminate with stainless steel reinforcing rods
Material feet : Solid rot-proof wood ( FREIJO )
Cage material : Stainless steel
Material of players : Aluminium
Material of the bars : Ground stainless steel
Type of bars : telescopic
Bars diameter : 15 mm
Packing information :
Package size : 115 x 115 x 65 cm
Playing surface size : 54 x 73 cm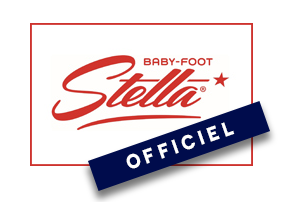 Stella's little extras :
Balls : delivered with 5 cork balls and 5 white plastic balls
Assembly : Only the feet to screw
Guarantee : 2 Generations *
Color : Taupe
2 generations* : Case and legs = 50 years; Bars and mechanical parts: 2 years*



WITH YOUR OUTDOOR TABLE FOOTBALL

Delivered with 5 cork balls and 5 plastic balls offered
Customization Choice of handle shape
POSSIBLE OPTIONS
DELIVERY OF YOUR BABY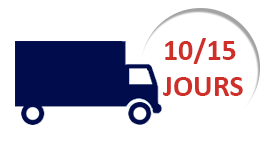 Delivery within 10 to 15 days
Adjustments and verifications in our workshop by our experts
Easy assembly: only the legs need to be fixed
15 days to change your mind - After sales service available!
Delivery only on the ground floor
Contact us for a delivery with handling
Reinforced side protection on the top and sides of your package