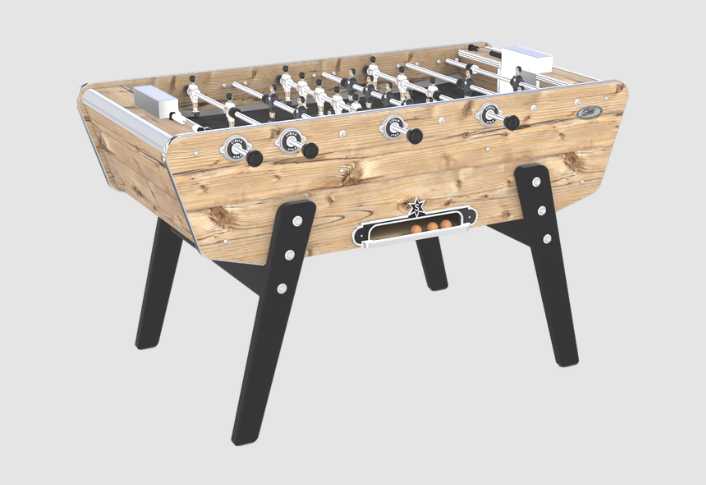  
Foosball Stella Star
At Stella, The Star is well named. Made lovingly by our passionate craftsmen, this professional table football coffee seduces many individuals. It is its large wooden period boat body that makes you crack, but also its beautiful quality.
- Painted solid wood feet
- Telescopic bars made of stretched steel
- Stainless steel goal cages
- Melamine wooden box
- Vinyl play mats
Buy a table football adapted to your level
Whether your goal is to participate in the next foosball championship or simply to become a good player, the best thing is to have a table within reach. There is no secret, to become a foosball champion you will have to train to: master your attacks, catch balls, ensure your defense... Whether you are a beginner or with a good level, the first step is to know how to equip yourself.
To accumulate hours of play and afternoons of training, opt for a football table combining comfort and robustness. With the Stella Star, you'll get the same feel for the game as you would at the café, because you're getting a table that's built just like a café football table. The Stella Star's solid wood legs and strong steel bars are a guarantee of quality workmanship.
To make your passing and learning of the snake shot easier, we have installed soft shock absorbers around the wrists. Depending on your preferences, we also give you the choice between round or long handles. Technique and good reflexes are best learned on a quality babi. The Star is guaranteed to provide hours of enrichment!
The survival of a game and a quality!
You will notice some peculiarities while playing on the Star table football from Stella: the ball bounces on the sides of the field? Have you just managed a header worthy of Zizou? That's right! Young players, we've been holding on to our Stella special features since 1928. So on your Star table football, the aluminium players are big enough to make heads. All around the vinyl field, you'll see our famous slanted strips (the ones that make your cork ball bounce). The large body of the Stella Star, offered us the possibility to make a nice central ball return. We have symbolized it with a beautiful aluminum rising star in accordance with the style of the Stella symbolic bearings.
If it already looks great in beech colour with its hand-painted wooden legs and boat shape! Your Stella Star, you can customize it on request! Choose the colour of the legs or opt for a ground marking, the options are numerous... the quality fabulous!
Height : 93 cm
Length : 158 cm
Width : 100 cm
Weight: 71 kg
Materials of the Stella Star:
Playing surface: Gerflex carpet
Body material : Melamine wood
Material feet : Solid wood, hand painted
Material of the goal: Stainless steel goal
Material players : Aluminium
Material of bars : drawn steel
Type of bars: telescopic
Rods diameter : 15 mm
Packing information :
Package size : 165 x 110 x 45 cm
Playing surface size : 126 x 73 cm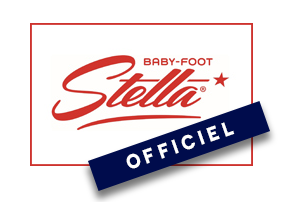 Stella's little extras :
Balls : delivered with 10 cork balls
Assembly : Only the feet to screw
Guarantee : 2 Generations *
Color : Beech
Game with the head possible on this model
Possibility of making jumping balls thanks to the oblique lateral bands
2 generations* : Case and feet = 50 years ; Bars and mechanical parts : 2 years*



WITH YOUR STELLA STAR TABLE FOOTBALL

Delivered with 10 free cork balls
Central ball outlet in aluminium
Choice of handle shapes
POSSIBLE OPTIONS
Bakelite handles
Traced game background
DELIVERY OF YOUR BABY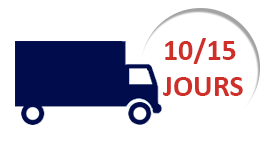 Delivery within 10 to 15 days
Adjustments and verification in our workshop by our experts
Easy to assemble: only the legs need to be fixed
15 days to change your mind - After sales service available!
Delivery only on the ground floor
Contact us for a delivery with handling
Reinforced side protection on the top and sides of your package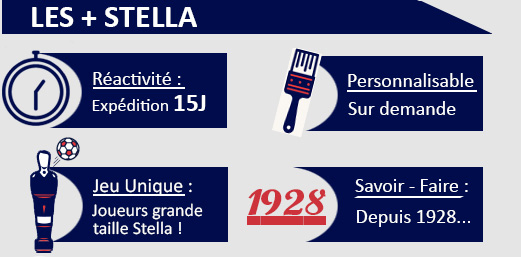 Livraison sous 4 semaines