 
Foosball Stella Milano
Living in an apartment or having a very small bar in the heart of the city is no longer a hindrance to afford a Stella foosball. Small size, but great quality! The Stella Toi&Moi 2 players,your favorite half-foosball!
- Feet 100% oak
- Baklite handles
- Players Nature and aged screwed on the bar
- Oak veneer box
- Soft rubber shock absorbers


Since 1928, Stella
Baby-Foot
has become the leading French company in the north of France. After equipping many bars and cafés in the region, Stella offers you to rediscover its know-how through a unique game experience thanks to a jewel football table, the
Milano with a glass table
. If your goal is to have a great game of foosball, with lots of laughs and a feeling of competition, the Milano with a glass table is really for you. You will benefit from Stella's know-how and experience in designing a solid foosball table, respecting traditional codes but using much more contemporary materials for a very successful vintage effect.
The Milano, the table football par excellence
Directly inspired by the
Toi & Moi Nature
model, the Milano is a small table football that will allow you to enjoy a very fast game. Its small surface does not mean that the emotions and intensity will be the same, on the contrary, it is the ideal opportunity to play one-on-one with an opponent who will be able to take advantage of the large players to speed up the controls and the passes. Another special feature is the presence of oblique side strips on the back of the game to have even more fun, lobbing your opponent and achieving technical moves that will allow you to score sensational goals. As a result, you will find yourself with an inimitable game with an omnipresent comfort of play. The 90 years of experience of Stella will be felt through this table football truly considered as a jewel.
With
the addition of a safety glass top, you can transform your table football into a high table in no time. Stella does not betray its reputation by combining with finesse gerflex, bakelite, oak and aluminium for an irresistible result. Thanks to its dual function, you can enjoy a particularly intense game of table football or, on the contrary, have a high table to sip a drink. Thanks to its small size, the Milano with glass table will easily fit in any interior with colours that you can customize to fit perfectly.
Take the time to discover all of our Toi&Moi foosball tables (playable by 2)
Height : 93 cm
Length : 100 cm
Width : 90 cm
Weight : 55 kg
Materials of Stella Toi&Moi :
Play mat : Gerflex on rigid bottom
Body material : Melamine wood
Material feet : Hand painted solid beech
Material cages : Stainless steel
Material players : Aluminium
Material of bars : Drawn steel
Type of bars : telescopic
Bars diameter : 15 mm
Packing information :
Package size : 115 x 110 x 65cm
Playing surface size : 54x73cm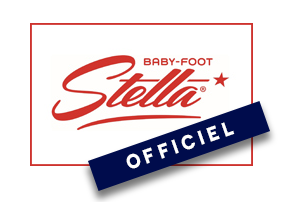 Stella's little extras :
Balls : Delivered with 3 cork balls
Assembly : Only the feet to screw
Guarantee : 2 Generations = 50 years
Color : Black - Yellow - Beech - White
2 generations*: Case and legs = 50 years; Bars and mechanical parts: 2 years*



WITH YOUR TOI&MOI TABLE FOOTBALL

Delivered with 3 cork balls
Only the legs to be screwed
2 generations *
Color : Black - Yellow - Beech - White
POSSIBLE OPTIONS
DELIVERY OF YOUR BABY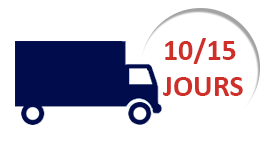 Delivery within 10 to 15 days
Adjustments and verifications in our workshop by our experts
Easy assembly: only the legs need to be fixed
15 days to change your mind - After sales service available!
Delivery only on the ground floor
Contact us for a delivery with handling
Reinforced side protection on the top and sides of your package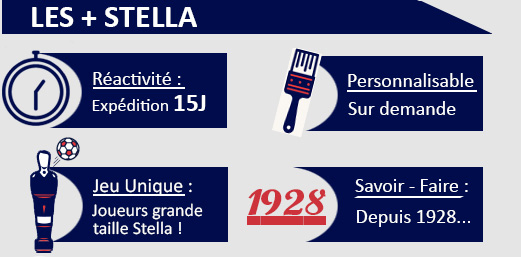 Livraison sous 4 semaines