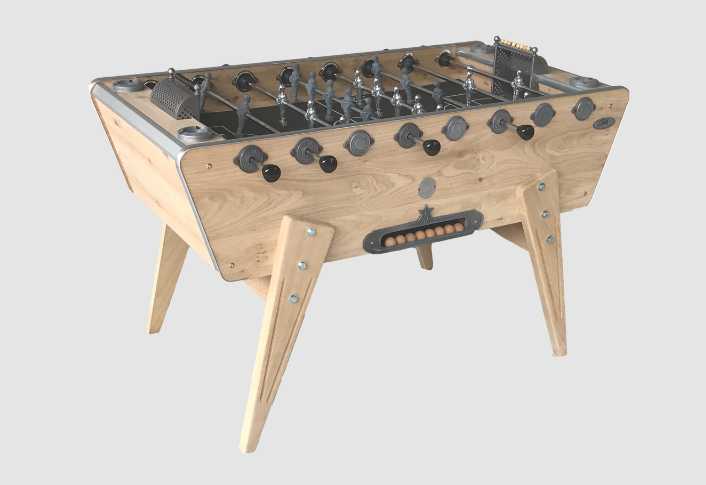  
Foosball Stella Champion Nature
The Baby football Champion Nature of Stella in wood in real raw oak décor is authentic. A vintage boat body and feet with the flared retro cut of the 70s. One of the most beautiful wooden table football and its decorative aluminum finishes.
- Box in 100% oak décor
- Solid oak feet
- Players in natural aluminum and aged sandblasted screwed on the bar
- Telescopic steel bars
- Soft rubber shock absorbers
The historic Stella Champion Nature table football
The boat shape of its sturdy body gives it a wave of nostalgia and authenticity, reinforced by the use of a noble wood, oak. The Stella Champion Nature has been worked to perfection, down to the smallest detail, including hand-aging and patinating the stainless steel hardware. The power of wood is present in the counters with our natural finish and the use of dark and light boxwood balls. The stainless steel bearings on the surface reinforce the fixing of the telescopic steel bars and cover the visible screw heads. The accumulation of details and subtle finishes in stainless steel and aluminium such as the placement of anodised aluminium corner profiles break up the rusticity of the oak. The design of the players is unique, for a result that is truer than ... nature! One team is in smooth glossy aluminium effect, while the other team is in rough aged patinated aluminium. The splayed legs are a reference to vintage furniture and match the historical Nature table body. A decorative game table in its own right, which will single-handedly enhance the warmth of an entire family room or a cosy restaurant.
Stella table football in 100% oak wood
The Stella Champion Nature table is one of the most beautiful wooden tables, but not only that... its oak finish also makes it a high quality table, very resistant and designed for intensive use. Oak is the No. 1 hardwood, the favourite of carpenters who even trust it for the construction of the foundations of some houses. A healthy and warm material that never wears out! It weighs 81 kg and rests on legs of the same quality in solid oak. The furniture is assembled with metal reinforcing rods in the workshop and all that remains is to fix the legs to the box. Stella offers to personalize your table football on request: painting, personalization of the teams, flocking of your logo on the body of your table football..
The Stella game without moderation..
High goals for incredible lobs! Make it rain with jump balls and headers while enjoying the inimitable Stella game for generations. On the Champion Nature, your bars go through, so it only takes a few minutes to get used to the unique atmosphere of a successful game! The smooth vinyl playing surface is directly laid out for even more realism.
You have a crush, but not enough space to adopt this model? Don't panic! It exists in miniature our nature
Height : 93 cm
Length : 158 cm
Width : 100 cm
Weight : 75 kg
Materials of Stella Champion Nature :
Playing mat : gerflex mat
Material of the body :

100% oak covering

Material feet : Solid oak
Material cages : Stainless steel
Material of players : natural and sandblasted aluminium screwed on the bar
Material of bars : steel
Type of bars : telescopic
Bar diameter : 15 mm
Packing information :
Package size: 165 x 110 x 35 cm
Playing surface size : 126 x 73 cm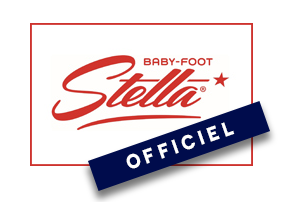 Stella's little extras :
Assembly : Only the feet to screw
Warranty : 2 Generations *
10 balls offered
Color : Oak
Play with the head possible on this model
2 generations* : Case and feet = 50 years ; Bars and mechanical parts : 2 years*



WITH YOUR CHAMPION NATURE TABLE FOOTBALL

THE POSSIBLE OPTIONS
Bakelite handles (119€ TTC)
PCVC protective cover (139€ TTC)
Traced game background (67€ TTC)
DELIVERY OF YOUR BABY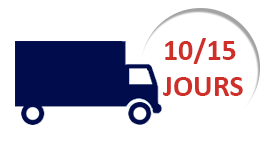 Delivery within 10 to 15 days
Adjustments and verification in our workshop by our experts
Easy to assemble: only the legs need to be fixed
15 days to change your mind - After sales service available!
Delivery only on the ground floor
Contact us for a delivery with handling
Reinforced side protection on the top and sides of your package