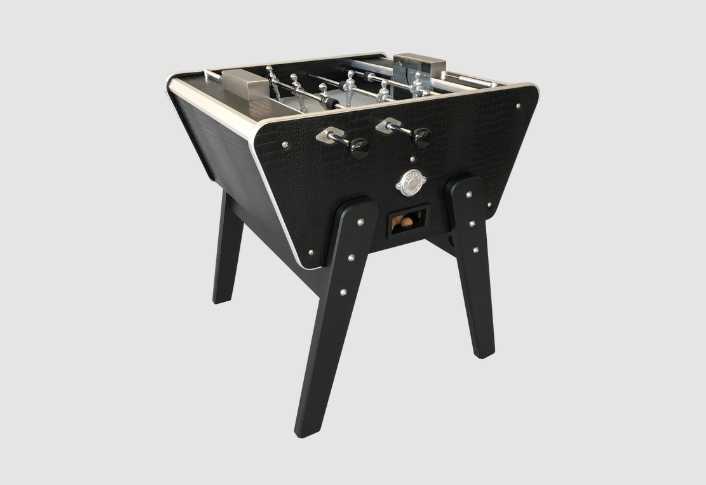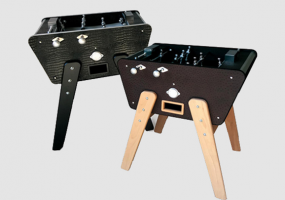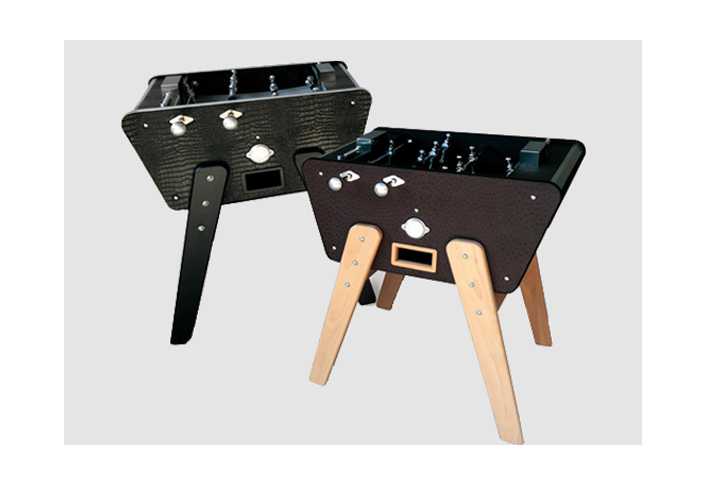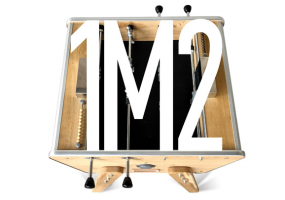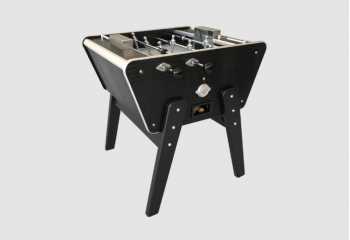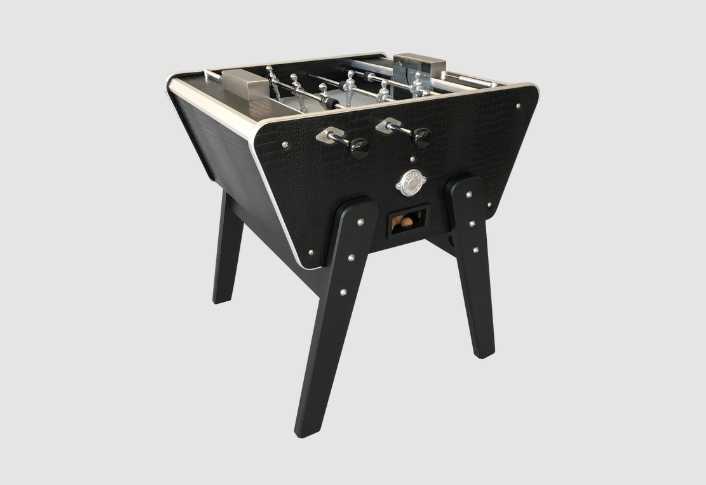  
Foosball Stella Toi&Moi leather
The Toi&Moi Cuir is THE novelty foosball 2018. A cult object of character endowed with a soul and an overflowing story, the emotion of the game. The Toi&Moi is the star of our workshops that will become that of your living room..
- 15 mm diameter bars
- Solid beech feet
- Brushed stainless steel goal cages
- Game mat in Gerflex
- Aluminum players screwed on the bar
The Toi&Moi Leather
Reinforcing the decorative aspect of the table football, that's the 2018 project of Stella. Our goal? To make the most football-averse woman succumb ( the one who grimaces when you tell her "I'm going to buy a baby darling"). Soft to the touch and warm, match your Toi&Moi leather football table to your sofa!
Because anything is possible when you make crafts and made in France with passion. This is what we claim at Stella by proposing table footballs going from the mineral universe (brushed aluminium or oak table football) to the animal side: cow leather, imitation crocodile, ostrich... Stella combines nobility, tradition and ... creation. The passion of table football and the claim of a sport in the heart of a top-of-the-range decorative furniture.
Uniting Stella's know-how and your ideas:
toi&Moi is not imposed by its size, but by its style, or rather your style. Because you are the one who customises your table football. Some of our customers surprise us with their creativity: small table football in orange coloured leather, ostrich look and personalised players in chrome or even a wooden case with a logo on it! This 2-person leather foosball table will bring volume and a unique personality to your decor. A masterpiece that will merge 100% with the rest of your decoration since you imagine it from A to Z. The toi&moi is available in a wide range of materials and colours, our qualified carpenters will create the most original model for you.
Embellish the quality of a cult vintage table football
While we develop the design of our Toi&Moi products, we keep the same manufacturing processes. A good 2-bar football table is built in the same way and with the same materials as a large football table. The metal reinforcement rods and the hand assembly make it robust. Young children as well as big and strong adults will be able to have fun without any limits or hesitation: Legs made of painted solid beech wood, stainless steel goal posts and players directly screwed on the bar... The flexible shock absorbers around the wrists will maximize the power of the shots. You will also benefit from our little extras: a game possible with the head of your players and the possibility of making your ball bounce on the sloping sides lovingly installed by our carpenters.
Discover all our Stella foosball tables!
Height : 93 cm
Length : 90 cm
Width : 100 cm
Weight : 55 kg
Materials of the Stella Club :
Playing surface : Gerflex on a rigid base
Body material : Medium wood with genuine cowhide upholstery
Material feet: Solid beech wood, hand painted
Cage material : Brushed stainless steel
Material of players : cast aluminium screwed to the bar
Material of bars : double chromium plated steel
Type of bars : telescopic
Bar diameter: 15 mm
Handles : Brushed aluminium with elastomer strip (for a better grip)
Stitch counter : brushed aluminium
Bearings : Nylon polyamide self-lubricated
Flange : Brushed stainless steel
Packing information :
Package size : 115 cm x 110 cm x 65 cm
Playing surface size : 55 x 73cm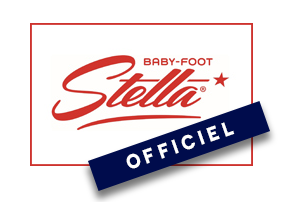 Stella's little extras :
Balls : delivered with 5 cork balls
Assembly : Only the feet to screw
Guarantee : 2 Generations *
Color : imitation crocodile skin / ostrich / cow leather
2 generations* : Case and legs = 50 years ; Bars and mechanical parts : 2 years*



WITH YOUR TABLE FOOTBALL CLUB
Delivered with 5 free cork balls
Customization Choice of handle shape
DELIVERY OF YOUR BABY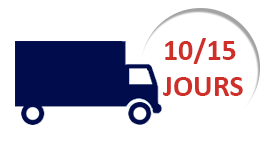 Delivery within 10 to 15 days
Adjustments and verification in our workshop by our experts
Easy to assemble: only the legs need to be fixed
15 days to change your mind - After sales service available!
Delivery only on the ground floor
Contact us for a delivery with handling
Reinforced side protection on the top and sides of your package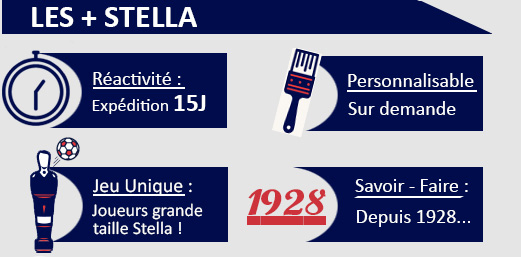 livraison sous 4 semaines