A look back at Stella Baby-foot Tour 2: A memorable inter-company tournament
Last Friday, the Hotel de Ville in Tourcoing was the scene of an exciting competition which brought together 110 teams, or 220 participants from 80 different companies. The second edition of the Stella Baby-foot Tour was a must-attend event for baby-foot enthusiasts in the region. From 1pm to 8pm, competitors battled it out in a thrilling atmosphere for the precious trophies.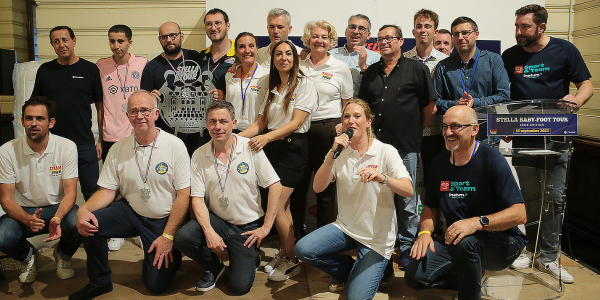 A day of fierce foosball competition
The course of the day was intensive. Teams were divided into 11 pools of 10 teams in total, and each team played all the others in its pool. The top two teams in each pool, together with the best third-placed teams, secured their places in the knockout stages, which consisted of 32nd finals through to the grand final.
One of the highlights of the day was the presence of Cauet as godfather of this second edition. He also presented Podcast Story, adding a special dimension to the event. This encounter with a renowned personality made the day an unforgettable experience.
Many thanks to our partners
The event would not have been possible without the generous support of our partners. We would like to extend our warmest thanks to ODC, Jacquart, Tourcoing Entreprendre, Yeahpa, Squête, Virgin Bio Pack, Aquila RH, and all the other partners who contributed to the success of this adventure. Their precious prizes and their commitment made this competition even more special.
We'd also like to say a big thank you to the companies who put their trust in us for this kind of event. Without their support and trust, this memorable day would not have been possible. Their commitment to the community and their enthusiasm in participating in this unique experience were essential to its success.
We were also delighted to count on the support of our beverage partners, Motte Cordonnier and 4Graines, who ensured an exceptional taste experience throughout the day. Le R, Le Paradoxe and Les Trois Petits Pichons also provided a memorable tasting experience.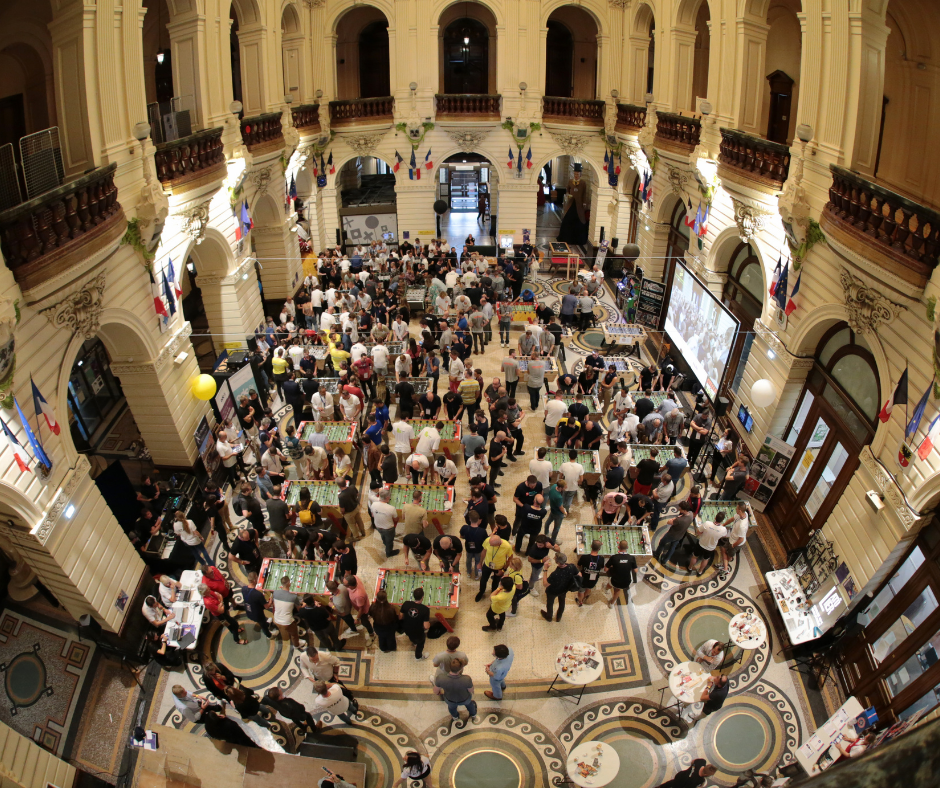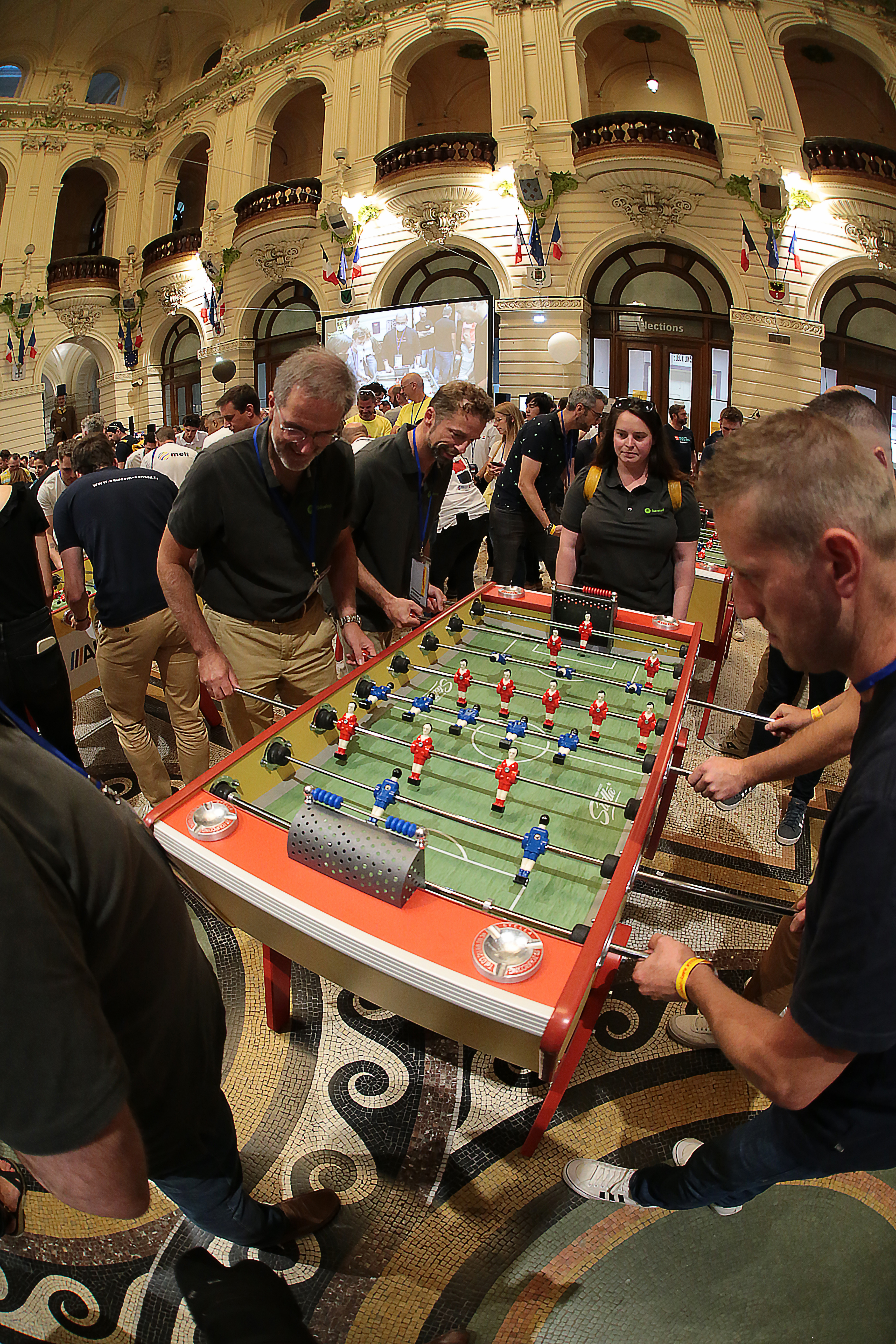 Strengthen team spirit and employee well-being through inter-company events
The importance of this type of event for team spirit and employee well-being cannot be underestimated. The Stella Baby-foot Tour 2023 demonstrated once again that inter-company competitions go far beyond mere sporting rivalry. They create an environment conducive to strengthening bonds between colleagues, team cohesion and the creation of lasting collective memories.
Taking part in a tournament such as this allows employees to get away from their daily routine and meet up in a different setting, where friendly competition encourages mutual help and support. Working together to achieve a common goal, whether on the foosball pitch or in organizing the event, reinforces trust and solidarity within the company.
What's more, these events are an opportunity for employees to relax, release pressure and have fun outside the professional context. This helps to reduce stress, promote conviviality, and improve employees' mental and emotional well-being.
Last but not least, support for charities during the tournament underlines the importance of social commitment and corporate responsibility. Employees have the opportunity to get involved in charitable initiatives while taking part in an entertaining event, reinforcing the feeling of making a positive contribution to society.
All in all, events like the Stella Baby-foot Tour play a crucial role in promoting a strong team spirit, enhancing employee well-being and strengthening corporate social commitment. They are much more than just a sporting competition; they are moments of sharing, camaraderie and the promotion of corporate values.
Alive magic in animation and live broadcasting
To make this second edition of the Stella Baby-foot Tour truly unforgettable, we must mention the exceptional work of the Alive management team. This dedicated team brought a touch of professionalism and magic to the event, ensuring impeccable animation and a live broadcast of the final on a giant screen. Thanks to their expertise, spectators were able to follow every shot, every goal, and every moment of suspense with exceptional clarity. The electrifying atmosphere of the final was amplified by the team's talent in capturing and transmitting the excitement of the competition across the giant screen. Their undeniable contribution added a major dimension to an already exceptional day, and we are grateful to them for making the experience even more special.
Some teams represented charities such as La Sauvegarde du Nord, Du Bruit pour Soline, Loisirs Pluriel, Melt, Recyclobat, AMAP, and SOS Amitié. Their participation helped raise public awareness of important causes, and we invite you to take a look at their initiatives.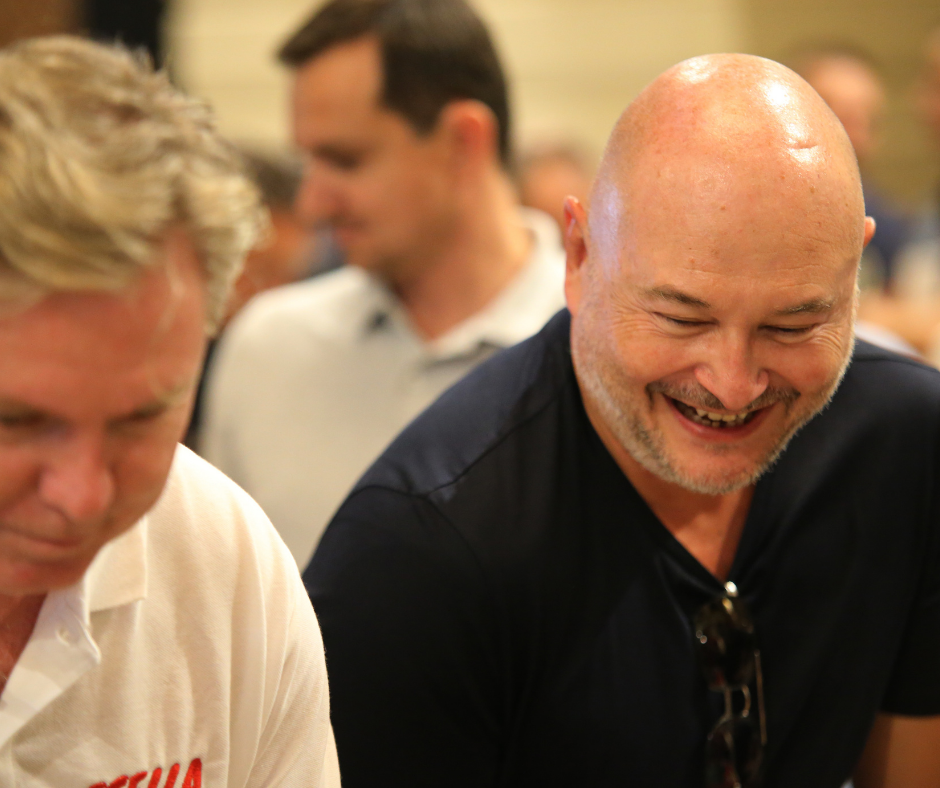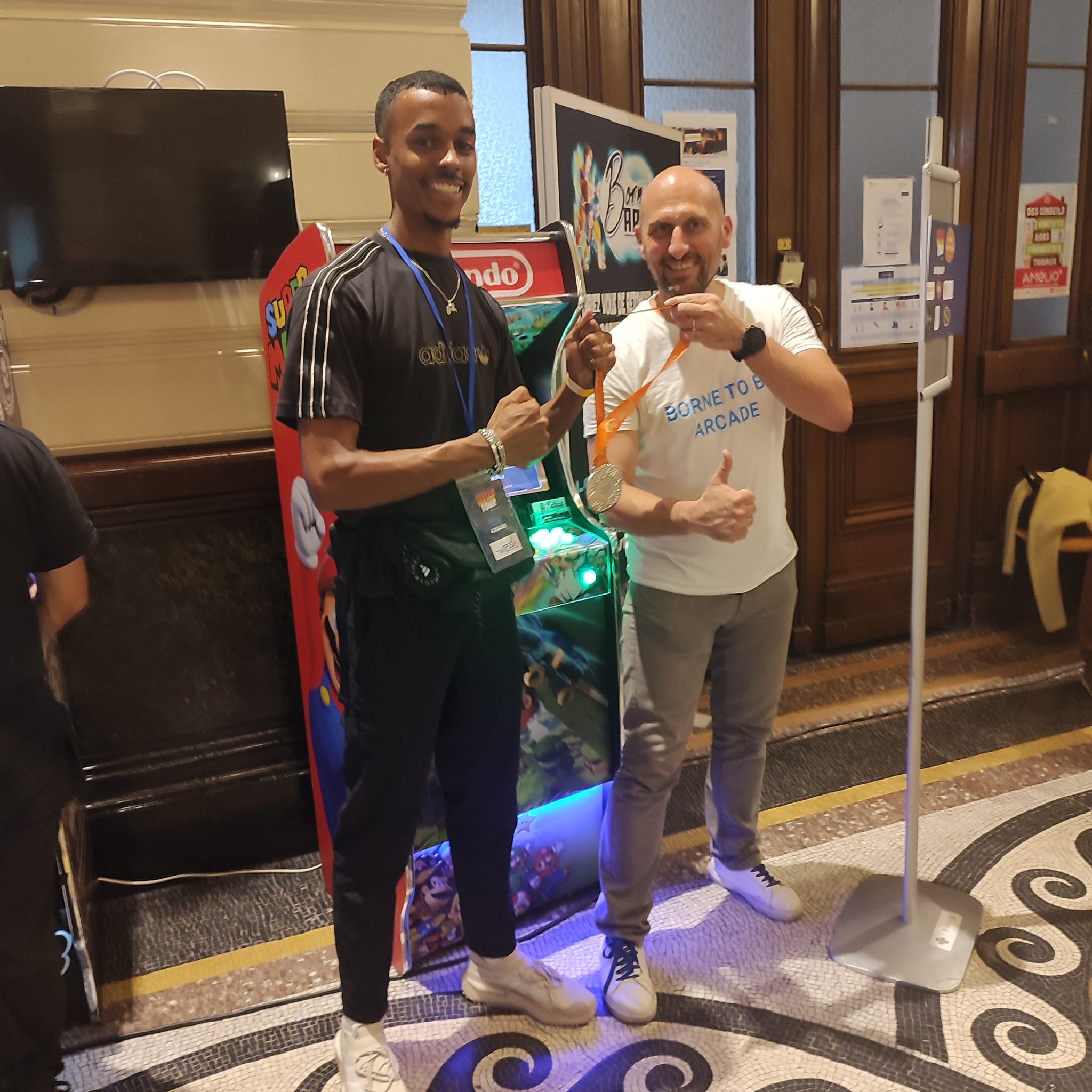 Finally, congratulations to the finalist teams! The champions won a table soccer, the runners-up a mattress, the third-placed team Squêtes, and the fourth-placed team a gift voucher from J'Achète à Tourcoing. In addition, numerous other prizes were awarded in a prize draw, including another foosball table and gift vouchers.
A special thanks to Yeahpa, who rewarded the team with the highest number of entries with an impressive team building experience for their entire team.
The Stella Baby-foot Tour 2023 was a memorable day of competition, solidarity and fun. We would like to thank all the participants, spectators, partners and charity teams for their contribution to the success of this event. We look forward to the next edition and hope it will be as exciting as this one!
Pictures from the Stella Baby-foot Tour