How do I maintain my compact pool table?
387

Views
Posted on:
29/09/2022
In order to preserve the quality and the elegance of your Stella billiards, whether it is the Chiberta, the Tilman or the Scipion, a regular and meticulous maintenance is necessary. Indeed, manufactured in a traditional way in our workshops in Tourcoing in the North of France, our billiard tables are made of noble and resistant materials such as solid oak for the body and the feet, brushed aluminum for the finishing touches, as well as wool and nylon for the carpet. To limit their wear and tear and continue to play in the best conditions, we recommend that you adopt the right gestures and follow our advice.
LTHE RIGHT REFLEXES FOR THE MAINTENANCE OF YOUR BILLIARD TABLE
The quality and care of the billiard table, which is the basis of the game, is the most important element of the game of billiards, as the feeling and enjoyment of the game depend on it. This is why we recommend that you take care of this quality piece of furniture, the Stella billiard table, in two stages: preventing deterioration and cleaning the body and legs.
First of all, don't hesitate to check the level with the material supplied with your billiard table at the time of its installation and any change of place during its life to avoid deformation of the wood. It is also advisable to do this regularly, as the excitement of the players during a game of billiards can cause your table to move. 
Moreover, like any other piece of furniture, your Stella billiard table sometimes needs a little attention. You can dust it with a dry cloth in order to remove dust, chalk and fingerprints which, although they show the good life of your billiard table, can limit its elegance. In addition, you can occasionally wax the solid oak body and legs with beeswax to nourish the quality wood and give it a new lease of life. A stainless steel cleaner can also be used to maintain the brushed aluminium parts.
LES SMALL STEPS TO MAINTAIN YOUR BILLIARD TABLE
  The Stella billiards carpet is a Simonis 920 wool and nylon carpet that requires proper care to ensure its longevity and quality of play.
Uniformity of colour and texture of the cloth is essential to keep your pool table looking good, and to do this you must aim to prevent stains, whether from the sun, food, drink or chalk. For example, since the billiard table fears sunlight, it is best to cover it with a tray or a house. To do this, you can choose the Desk + Table Tennis Table option, which will provide you with an oak top measuring 150 x 180 cm. In addition to protecting your playing surface, you can then transform your billiard table into an elegant and spacious desk, and even into a table tennis table thanks to the net, rackets and balls supplied. In addition, food, drink and cigarettes should be kept away from the playing surface, as well as your chalk, the dust from which can limit the quality of the balls' glide.
 However, despite all possible precautions, regular maintenance will prolong the life of your carpet. You can use the Stella brush to clean the natural rubber strips and the carpet. You can also occasionally dust the carpet with a hoover equipped with a flat brush if it is not too powerful, otherwise the slate may be damaged. Finally, to remove any stains and improve the glide, you can wash it with hot water using a piece of carpet.
Although the mats of Stella billiard tables are of high quality, they can sometimes (but rarely) develop holes, making it necessary to replace them. Patience and meticulousness are then required. Armed with your Stella mat, a spray of glue, a scraper and a damp sponge, you can easily replace it, to recover a billiard table with the original colours and elegance.      
TIPS FOR THE AGING OF YOUR BILLS
The quality of your games and your shots depends largely on the maintenance of your billiard balls.
While it is not possible to avoid wear and tear on the Aramith balls supplied with a Stella billiard table, it can be limited and delayed by adopting the right reflexes. First of all, the balls, just like the cloth, are sensitive to sunlight. It is therefore advisable to leave them in their box when you are not playing. In addition, in order to improve the shine and glide quality of your billiard balls, it is recommended to clean them with a cotton cloth before starting a new game. Finally, to maintain and prolong the quality of the slide, we advise you to get a second set of American balls for your Chiberta or golf for your Tilman, which will allow you to rotate when the first one is worn out. You can then alternate between your two sets by using the worn one for beginners' games, the importance of a perfect glide being less important in this case.
Giving your pool cues a second lease on life
An essential element of all your games, the cue is a precision object which, because of its material, wood, remains fragile, and can be deformed in the case of poor maintenance, or exposure to extremes of temperature and humidity.
When you buy a Stella billiard table, we deliver two 122 cm and two 145 cm cues to suit your needs. If the Stella cues are of high quality, as well as the rest of the table, some gestures are nevertheless to be adopted in order to keep all the sensations and the pleasure of this game of balls, and to be able to perfect your shots and techniques.
First of all, as the cues are made of wood, it is essential never to put it diagonally against any object, whether it is the billiard table or a wall: this risks making the wood work and therefore deforming the cue. We strongly recommend that the cue be placed horizontally or vertically in its case, or that it be stored on your optional Stella cue rack.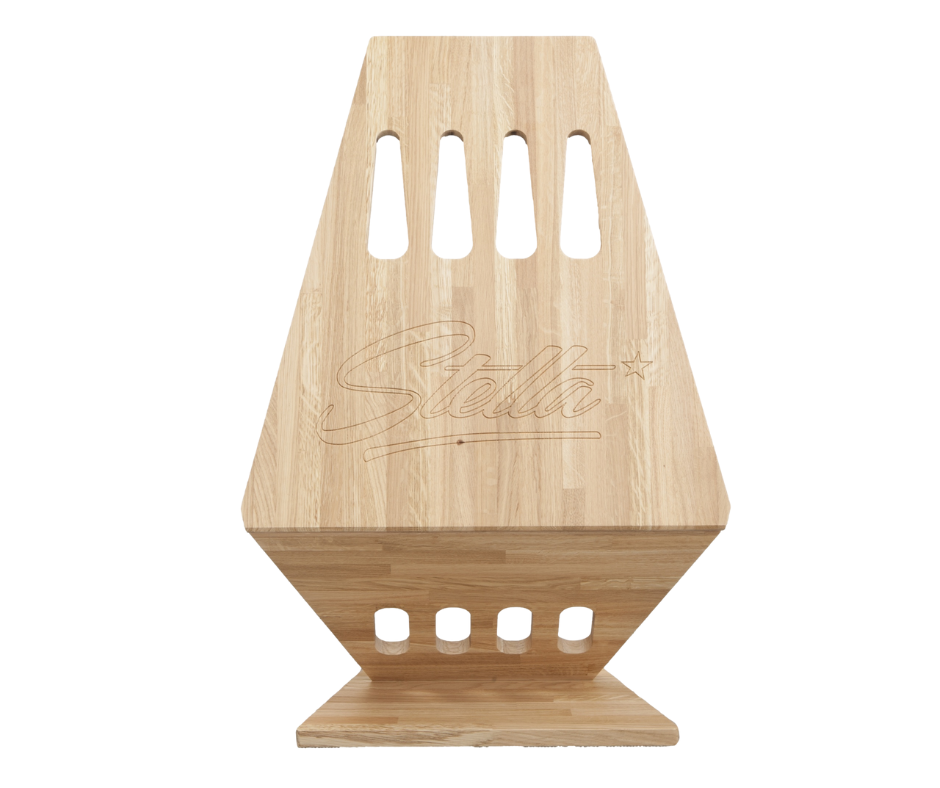 This elegant cue rack is made of solid oak in our workshops in Tourcoing and holds the playing triangle as well as four billiard cues. This option will fit perfectly in your room and will allow you to combine decoration and utility. On the other hand, the cue is a delicate, precision object that should not be exposed to extreme temperatures or humidity. It should therefore be kept in a dry place where temperature variations are not too great. We also advise against applying too much pressure to it, by leaning on it to rest, or by hitting the floor with it, whether out of anger during a lost game or to congratulate your opponent for his masterful strokes, as the wood could then expand or shrink.
Finally, when buying a new cue or receiving your Stella cue, it is recommended to check with your eyes (simply) if it is straight.
As the following contains a few technical terms, here is a small summary diagram to help you find your way around.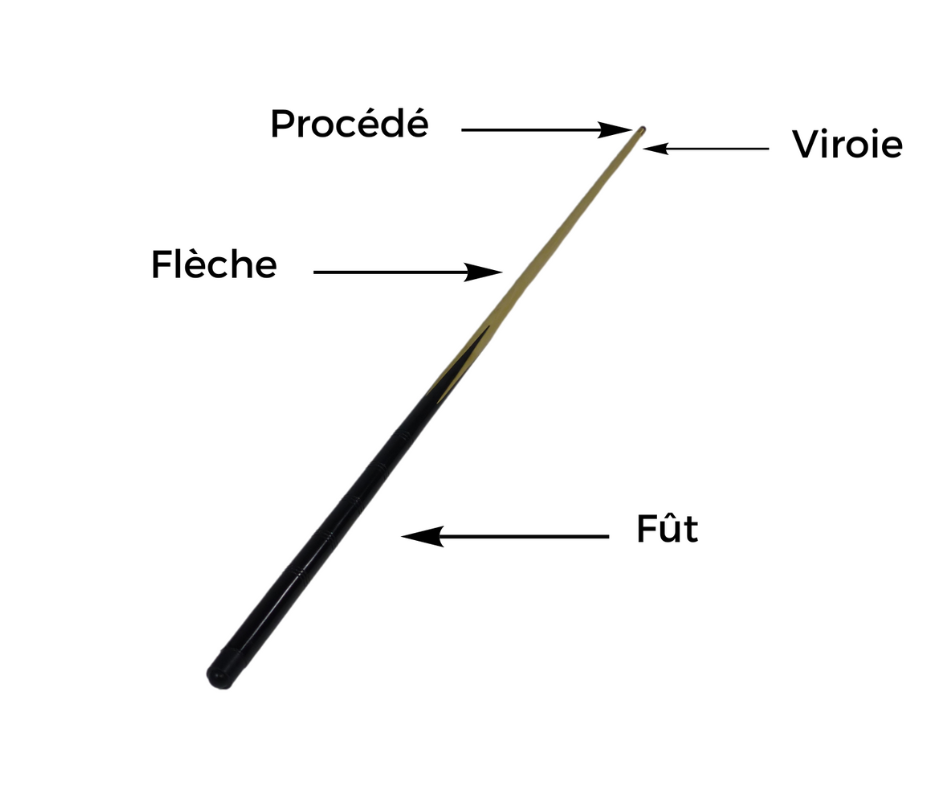 To properly maintain your cue shaft, you should use a damp cloth to remove chalk marks at the end of each game. Indeed, chalk, coupled with humidity or perspiration, can damage the wood and cause it to warp. To limit this, in addition to regular maintenance of the shaft, you can also adopt the right gestures when applying your chalk by remembering to tilt the cue.
The gliding quality of the cue is an essential element of good pool play, allowing you to control your shots and spin. As Stella cues are varnished, we advise you (if this hinders your movements) to polish the cue shaft with an extremely fine polisher. Then, all you have to do is rub the shaft with a cloth until it emits heat.
Finally, to clean the shaft, simply rub it gently with a dry cloth, which can be (very) slightly dampened when stains appear, provided you wipe it off immediately afterwards.
Process replacement for quality play
Over the course of a game of pool, the cue tip, the point of contact between the cue and the balls, wears, hardens or crumbles, limiting its grip and its ability to absorb shocks. You will then have difficulties to make precision shots and effects, and this risks in the longer term to damage the ferrule. You will therefore need to change it quite regularly. To do this, follow the steps below.
Firstly, you should remove the cue tip and remove the residue from the end of the cue by scraping with a cutter, before polishing the flat surface of the new cue tip with sandpaper. Then you can apply a little glue to the cue and cue tip. In order to make gluing easier, you can put the arrow upright by applying a little pressure. This will also make it easier to cut out the parts of the process that extend beyond the ferrule, which is the next step. Finally, polish the cue tip with progressively finer sandpaper so that it has a rounded shape and is perfectly aligned with the rest of the cue.
Your billiard table and all your playing equipment are now completely clean, so all you have to do is have fun and practice.